2023 SRS Distribution Las Vegas Bowl to Feature Big Ten vs. Pac-12 on December 23
May

31

/ 2023
2023 SRS Distribution Las Vegas Bowl to Feature Big Ten vs. Pac-12 on December 23
Featuring a matchup of teams from the Pac-12 and Big Ten conferences, the SRS Distribution Las Vegas Bowl will be played Saturday, Dec. 23, 2023, at 4:30 p.m. PT (7:30 p.m. ET) at Allegiant Stadium and televised on ABC.
The annual college football postseason event includes an alignment of three top conferences that feature 40 powerhouse brands spanning the nation. The Pac-12 will face a team from the Big Ten this year and also in 2025 and a team from the SEC in 2024. As part of the historic alignment, last year's game saw No. 14 Oregon State defeat Florida on December 17 in the first pre-scheduled meeting between the Pac-12 and SEC in a bowl game since 1989.
This year will mark the 31st edition of the Las Vegas Bowl.
"The SRS Distribution Las Vegas Bowl will be the featured primetime game on the East Coast with this year's late-afternoon local kickoff providing a perfect opportunity to help show off our city to a national television audience as the Sports and Entertainment Capital of the World," said John Saccenti, executive director of the SRS Distribution Las Vegas Bowl. "The date also gives fans plenty of time to travel to Las Vegas for bowl week before the holiday. Our committee looks forward to hosting another dynamite matchup between marquee teams from two elite conferences."
The SRS Distribution Las Vegas Bowl is one of 17 bowl games owned and operated by ESPN.
Follow the SRS Distribution Las Vegas Bowl on social media:
Website: www.lvbowl.com
Twitter: @LasVegasBowl
Facebook: facebook.com/lvbowl
Instagram: @lvbowl
About SRS Distribution
Founded in 2008 and headquartered in McKinney, Texas, SRS has grown to become one of the largest and fastest growing building products distributors in the United States. Since their inception, SRS has established a differentiated growth strategy and entrepreneurial culture that is focused on serving their customers, partnering with their key suppliers, and attracting the industry's best talent. SRS currently operates under a family of distinct local brands encompassing more than 440 locations across 45 states. For more information visit https://www.srsdistribution.com/.
About Allegiant Stadium
Home to the Las Vegas Raiders, located adjacent to the world-famous Las Vegas Strip, Allegiant Stadium is an award-winning global events destination. A state-of-the-art, multipurpose venue with a capacity of 65,000, Allegiant Stadium has hosted world-class music artists such as Garth Brooks, The Rolling Stones, Guns N' Roses, Taylor Swift and BTS with more legendary concerts to come. The fully enclosed stadium is also home to the UNLV Rebels football team and has hosted premier sporting events such as the CONCACAF Gold Cup Final, Pac-12 Championship Game, Las Vegas Bowl, and WWE SummerSlam. The venue also hosted the NFL Pro Bowl in both 2022 and 2023 and has been selected to host Super Bowl LVIII in 2024. Allegiant Stadium is committed to giving back to the community through numerous diversity, inclusion, and community outreach initiatives. For more information on Allegiant Stadium, visit www.allegiantstadium.com or follow us at @allegiantstadm on Twitter and @allegiantstadium on Instagram.
ESPN Events
ESPN Events, a division of ESPN, owns and operates a portfolio of collegiate sporting events nationwide. In 2023, the 32-event schedule includes four early-season college football kickoff games, 17 college bowl games, 10 college basketball events, and a college softball event, in addition to a new a college gymnastics event coming in 2024. Collectively, these events account for over 400 hours of live programming on ESPN platforms, while reaching 60 million viewers and attracting more than 650,000 annual attendees. Each year, the portfolio of events features more than 20 Division I conferences and hosts over 4,000 participating student-athletes. With satellite offices in more than 10 cities across the country, ESPN Events builds relationships with conferences, schools and local communities, as well as providing unique experiences for teams and fans. For more information, visit the official website, Facebook, Twitter or YouTube pages.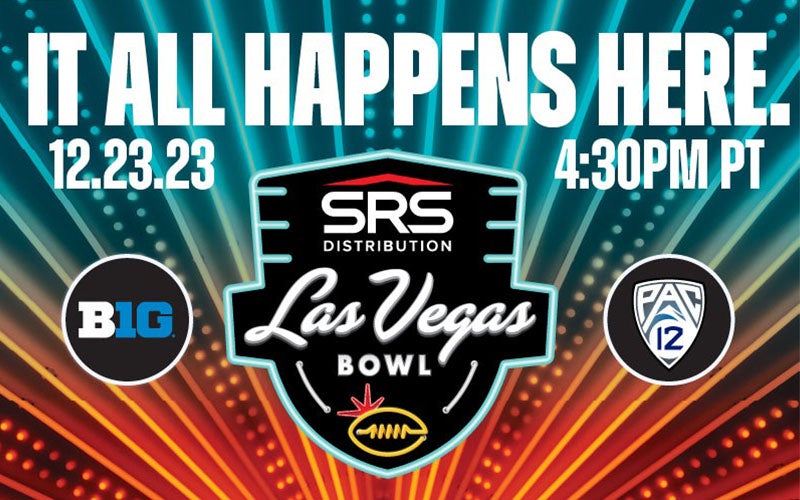 The SRS Distribution Las Vegas Bowl will be played Saturday, Dec. 23, 2023, at 4:30 p.m.