Directions & Parking
We recommend booking convenient and affordable parking in advance through SpotHero, the nation's leading parking reservations app. To reserve your parking spot, visit the Allegiant Stadium SpotHero Parking Page. *Parking provided and operated by MGM Resorts International and sold through Park Mobile is not sold or operated by the Las Vegas Raiders or Allegiant Stadium
Allegiant Stadium is located adjacent to the world-famous Las Vegas Strip, directly west of Interstate-15 between the Russell Rd. and Tropicana Ave. exits. Home of the NFL's Las Vegas Raiders and major events of all kinds, Allegiant Stadium is conveniently located less than three (3) miles from McCarran International Airport and in the proximity of countless Las Vegas resort hotels. The Stadium offers multiple drop-off and pick-up locations and is within walking distance from Las Vegas Blvd.
Allegiant Stadium
3333 Al Davis Way
Las Vegas, NV 89118
TRANSPORTATION TIPS FOR VISITORS
Plan your trip in advance to ensure getting to and from Allegiant Stadium is part of the game-day fun.
The best option for accessing Allegiant Stadium is from Las Vegas Blvd. via Hacienda Bridge, which will be closed to automobile traffic on game- and select event-days, allowing fans to safely walk across.
Take Uber, other rideshare options, or taxi from home or other Strip locations to one of two east rideshare lots, then follow the marked walking paths to the Stadium, which includes Hacienda Bridge.
Once you are on the Strip, the RTC's Deuce bus runs 24/7 every 15 minutes from 57 stops along Las Vegas Blvd. with the closest stop near Hacienda Bridge at Mandalay Bay. A 24-hour pass, priced at $8, allows you to ride the Deuce to the game, back and anywhere else on the Strip you would like to go. Passes can be purchased on the RTC app.
A dedicated area west of the Stadium near Diablo and Procyon will be available for taxis, shuttles, and general drop-off and pick-up before and after games.
There are more than 35,000 parking spaces within one mile of Allegiant Stadium.
Single event- or game-day parking passes are available via the SpotHero app and must be purchased in advance.
If you are driving your own car, allow plenty of time to get to the Stadium, especially at the beginning of the NFL season as you get familiar with the area and streets that will be converted to one-way on game- or event-days. Streets being converted to one way only can be viewed here.
Allegiant Stadium is a cashless stadium. Payment for parking and concessions must be made by debit or credit card or mobile payment.
Here is the parking map for Allegiant Stadium. Please visit the Virtual Parking Map for an interactive experience.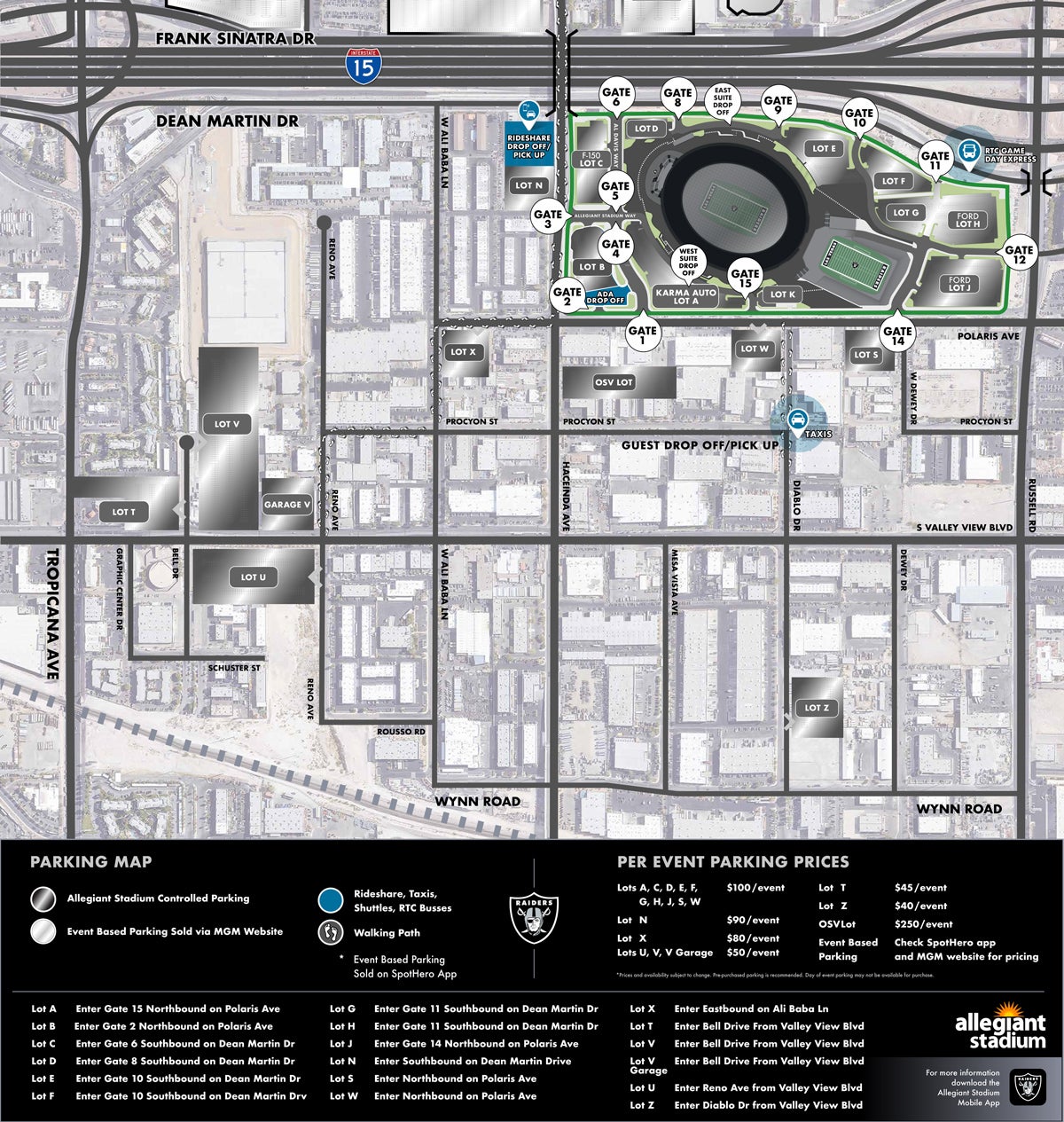 Directions to Parking Lots
There are several options for parking around Allegiant Stadium. Please visit the Parking Map for a detailed map of available parking lots and shuttle routes. Parking lots will open approximately four (4) hours before kick-off for Raiders games and approximately three (3) hours before the start of other Allegiant Stadium events. Parking lots will close one (1) hour after the conclusion of the event.
Accessible Parking will be available for guests at Allegiant Stadium. Parking pass holders in need of accessible parking will be directed by traffic and parking staff. A state-issued ADA parking placard, sticker, or license plate does not grant access to parking lots without a verified parking pass.

Drop Off, Pick Up & Rideshare
The designated general and taxi drop-off and pick-up zone is located at the corner of Diablo Dr. and Procyon St.. Traffic will be directed eastbound on Diablo Dr. and northbound on Procyon Ave. There will be a walking path through Diablo Dr. leading towards Allegiant Stadium's southwest entry. If available, a Taxi pick-up line will also be located in this zone after events.

Allegiant Stadium has multiple designated Uber/Rideshare areas, conveniently located within a short walking distance of the Stadium. Guest rideshare drop-off areas will be based on ride start location.
Please visit Parking Map for a detailed map of the designated drop off & pick up locations and rideshare lots.
The Regional Transportation Commission of Southern Nevada and the Las Vegas Raiders will operate a Game Day Express service that will offer direct, express transit routes from five convenient locations throughout the Las Vegas Valley to Allegiant Stadium for Las Vegas Raiders home games.
The five locations from which Game Day Express service will operate include:
Route 605 – Summerlin Game Day Express: Red Rock Casino Resort Spa, 11011 W. Charleston Blvd., Las Vegas, NV 89135
Route 606 – Green Valley Game Day Express: Green Valley Ranch Resort Casino & Spa, 2300 Paseo Verde Parkway, Henderson 89052
Route 607 – Centennial Hills Game Day Express: Santa Fe Station Hotel & Casino, 4949 N. Rancho Dr., Las Vegas, NV 89130
Route 609 – East Side Game Day Express: Boulder Station Hotel & Casino, 4111 Boulder Highway, Las Vegas, NV 89121
Route 612 – West Henderson Game Day Express: M Resort Spa Casino, 12300 Las Vegas Blvd. South, Henderson 89044
Beginning with the Aug. 14 preseason game which starts at 6 p.m. and for which gates open at 3 p.m., Game Day Express service begins at 2:30 p.m. and runs every 30 minutes with the last bus departing for Allegiant Stadium at 5 p.m. For other home games that begin at 1:05 p.m. or 1:25 p.m., Game Day Express service will begin at 9:30 a.m. and run every 30 minutes with the last bus departing at noon.
For additional information please visit RTC's Game Day Express page.
Walking to Allegiant Stadium from the Las Vegas Strip is convenient and safe via the Hacienda Bridge. The less than 1-mile path from Las Vegas Boulevard to Allegiant Stadium will be closed to all vehicle traffic and open for pedestrian access only on all game and select event days. The Bridge, itself, is 0.3 miles in length from its east side to the Stadium gate, a short 10- to 15-minute walk. Allegiant Stadium and its partners will be present to manage pedestrian traffic prior to and following events.
Please refer to the Walking Path on the Parking Map for details on the multiple managed walking paths to and from Allegiant Stadium.
On non-event days, complimentary parking will be available for Raider Image guests in Lot A. Please visit The Raider Image website for store hours.
Is tailgating allowed before games?
Yes, tailgating is allowed at approximately 6,000 parking spaces throughout multiple lots. Please check the parking lot details before purchasing your parking pass to understand if tailgating will be permitted. It is expected that nearby resorts may also offer tailgating activations.
Onsite Lots: Lots A, C, E, F, G, H & J
Offsite Lots: Lots T, V, U, X, W, S, Z, N, and OSV