Allegiant Stadium is located adjacent to the world-famous Las Vegas Strip, directly west of I-15 Interstate between the Russell Road and Tropicana Avenue exits. Allegiant Stadium is conveniently located less than three (3) miles from McCarran International Airport and in the proximity of countless Las Vegas hotels. The stadium offers multiple drop off and pick up locations and is within walking distance from Las Vegas Boulevard.
Allegiant Stadium
3333 Al Davis Way
Las Vegas, NV 89118
There are several options for parking around Allegiant Stadium. Please visit the Parking & Shuttle Map for a detailed map of available parking lots and shuttle routes.
Single event parking passes will be sold through the Spothero app when available. Guests are encouraged to purchase event parking passes in advance. Day of event parking passes will be available on a first-come, first-serve basis only. Please note, Allegiant Stadium is a cashless stadium. Payment must be made by debit or credit card, or mobile payment.
Guests with prepaid parking passes should follow the instructions provided to them on their mobile pass. Guests are encouraged to check event information webpages for event-specific parking maps and directions.
Parking lots will open approximately four (4) hours before kick-off for Raiders games and approximately three (3) hours before the start of other Allegiant Stadium events. Parking lots will close one (1) hour after the conclusion of the event.
Accessible Parking will be available for guests at Allegiant Stadium. Parking pass holders in need of accessible parking will be directed by traffic and parking staff. A state-issued ADA parking placard, sticker, or license plate does not grant access to parking lots without a verified parking pass.

Drop Off, Pick Up & Rideshare
The designated general and taxi drop off and pick up zone is located at the corner of Diablo Drive and Procyon Street. Traffic will be directed eastbound on Diablo Drive and northbound on Procyon Avenue. There will be a walking path through Diablo Drive leading towards Allegiant Stadium's Southwest Entry. If available, a Taxi pick up line will also be located in this zone after events.

Allegiant Stadium has multiple designated Rideshare/Uber areas, conveniently located within a short walking distance of the stadium. Guest rideshare drop off areas will be based on ride start location.

Please visit Parking & Shuttle Map for a detailed map of the designated drop off & pick up locations and rideshare lots.
Walking to Allegiant Stadium from the Las Vegas Strip is convenient and safe via the Hacienda overpass. The less than 1-mile path from Las Vegas Boulevard to Allegiant Stadium will be closed to all vehicle traffic and open for pedestrian access only on select event days. Allegiant Stadium and its partners will be present to manage pedestrian traffic prior to and following events.
Please refer to the Walking Path on the Parking & Shuttle Map for details on the multiple managed walking paths to and from Allegiant Stadium.
Parking & Shuttle Map Walking Map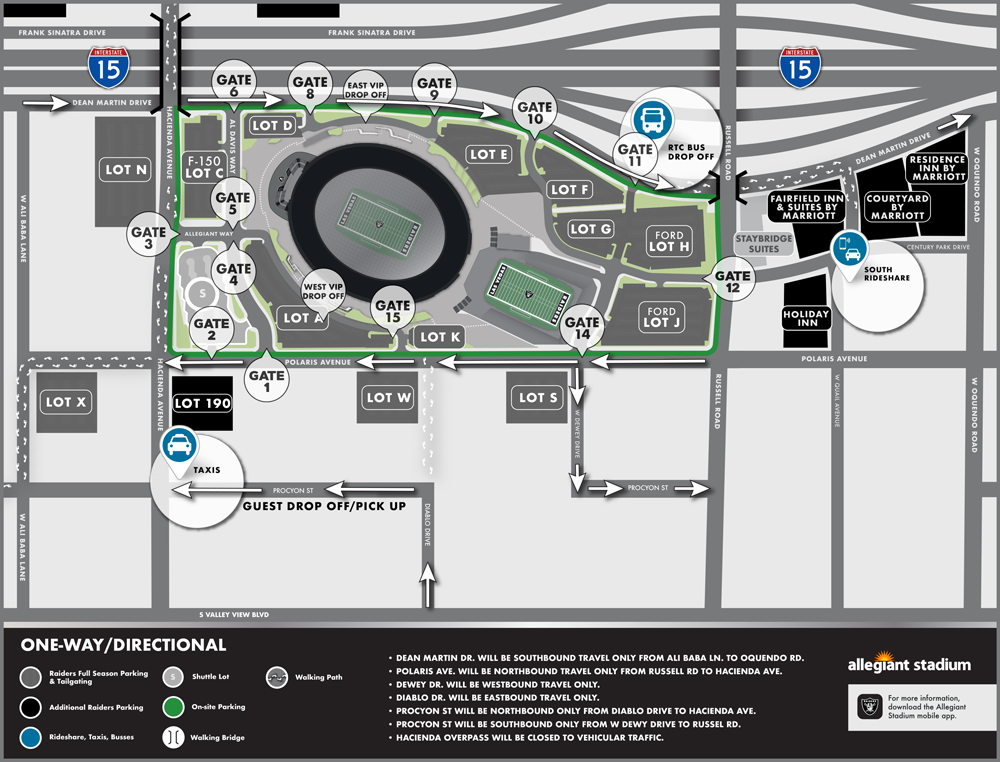 On non-event days, complimentary parking will be available for Raider Image guests in Lot A. Please visit The Raider Image website for store hours.
Here is the parking map for Allegiant Stadium.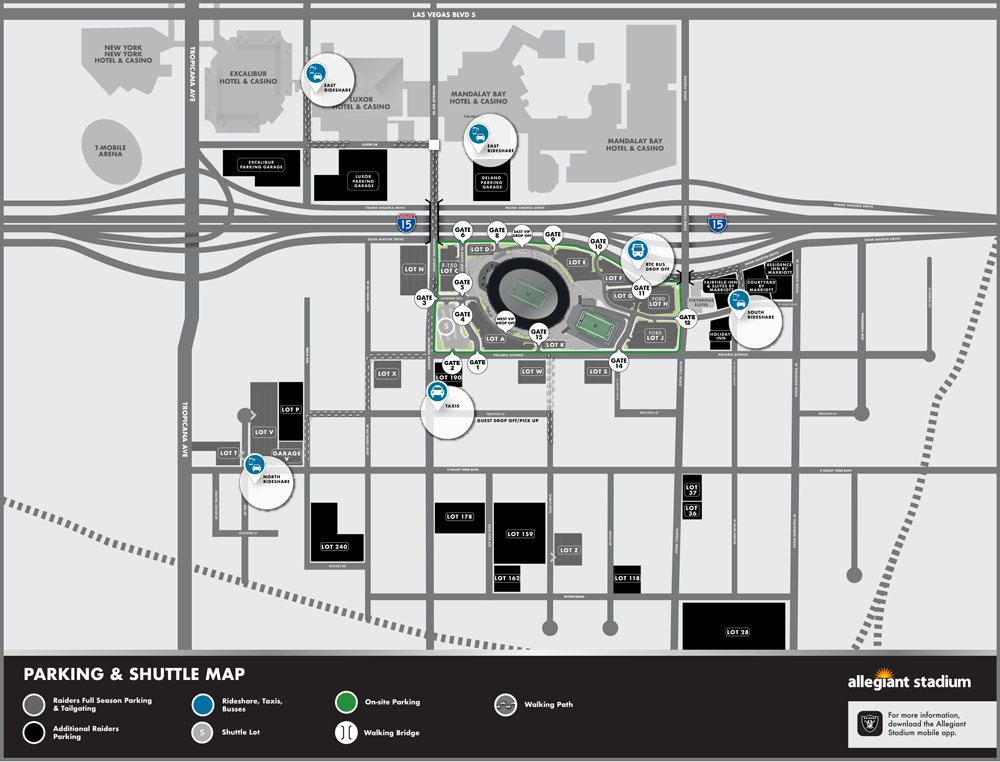 FREQUENTLY ASKED QUESTIONS
What is the Parking and Transportation Program for Allegiant Stadium?
StadCo has developed a first-class, comprehensive Parking and Transportation Program that offers many parking, transportation and tailgating options.
The Program is developed in cooperation with community partners, including local government agencies, area property owners and nearby resorts.
The Program is dynamic and will continue to evolve as we learn more about consumer preferences during the Stadium's inaugural year.
The Program is based on best practices from other NFL and major stadiums around the country.
StadCo is working with Parking and Transportation Group – Las Vegas (PATG-LV), the same company that helped to create the traffic plan for T-Mobile Arena, including Vegas Golden Knights games; the company also manages parking for Las Vegas Ballpark, home of the Las Vegas Aviators.
The Program incorporates the best in wayfinding technology and digital tools, including a mobile app, to make finding parking easy.
Employing a distributed parking approach, the Program offers many options to mitigate single points of congestion and accommodates a variety of consumer preferences for transportation, parking and tailgating.
The Program includes more than 25,000 parking spaces near Allegiant Stadium, including 15,000 spaces within walking distance.
The Program will include multiple areas for rideshare, taxi, shuttle and limousine drop-off and pick-up.
Special fan experiences will include the ability to walk from Las Vegas Blvd. to the Stadium across the Hacienda Avenue overpass, which will be closed to automobile traffic on game days. This will provide a safe and experiential opportunity.
The Program is highly managed and includes not just parking, but also traffic flow and traffic management, strategic street closures and more.
The goal of the Program is to make getting there part of the game day experience.
How much parking is available?
There are more than 25,000 spaces near Allegiant Stadium.
This includes more than 14,000 spaces in the Stadium District and at nearby off-site Park & Shuttle lots.
Nearby resort properties offer more than 11,000 spaces.
More than 15,000 spaces are located within walking distance of the Stadium.
Local examples of distributed parking include T-Mobile Arena and Las Vegas Ballpark.
Examples of NFL stadiums that successfully employ distributed parking include Mercedes Benz Stadium (Atlanta Falcons) and CenturyLink Field (Seattle Seahawks).
How much does parking cost?
Parking will range from $20 to $100 per game/event. Price is based on location and proximity to the Stadium.
Is tailgating allowed before games?
Yes, tailgating is allowed in multiple locations. Please check the parking lot details before purchasing your parking pass to understand if tailgating will be permitted.