Accessibility and Guests with Disabilities
Allegiant Stadium is committed to providing a first-class experience for all of our guests, including guests with disabilities. Allegiant Stadium is accessible by guests with disabilities and dedicated team members are available to work with you in order to provide reasonable accommodations for your visit at Allegiant Stadium. To speak with someone regarding accommodations, assistance or questions prior to your visit, please contact our Guest Experience department at [email protected] or by calling (725) 780-2350. During events, staff members will be available at all Guest Experience locations to assist guests as needed.
All gates at Allegiant Stadium are ADA Accessible. There will be one designated lane at each gate that is reserved for guests with disabilities.
ADA and wheelchair accessible seating is available throughout Allegiant Stadium as depicted in the seating chart below. Tickets for wheelchair seating at Allegiant Stadium are available on Ticketmaster.com – the official ticketing partner of the Raiders and Allegiant Stadium.
Guests requiring wheelchair seating are guaranteed the ability to purchase at least one (1) companion seat. Subject to availability, guests requiring wheelchair seating may purchase up to a total of three (3) companion seats in the same row and contiguous with the wheelchair seat. If contiguous seats have already been sold, seats as close as possible to the wheelchair seat and adjacent companion seat will be offered. Please contact the Box Office should you have any questions or require any assistance purchasing tickets. Tickets are subject to availability.
Guests interested in purchasing an ADA PSL (Personal Seat License) can email [email protected] for additional information.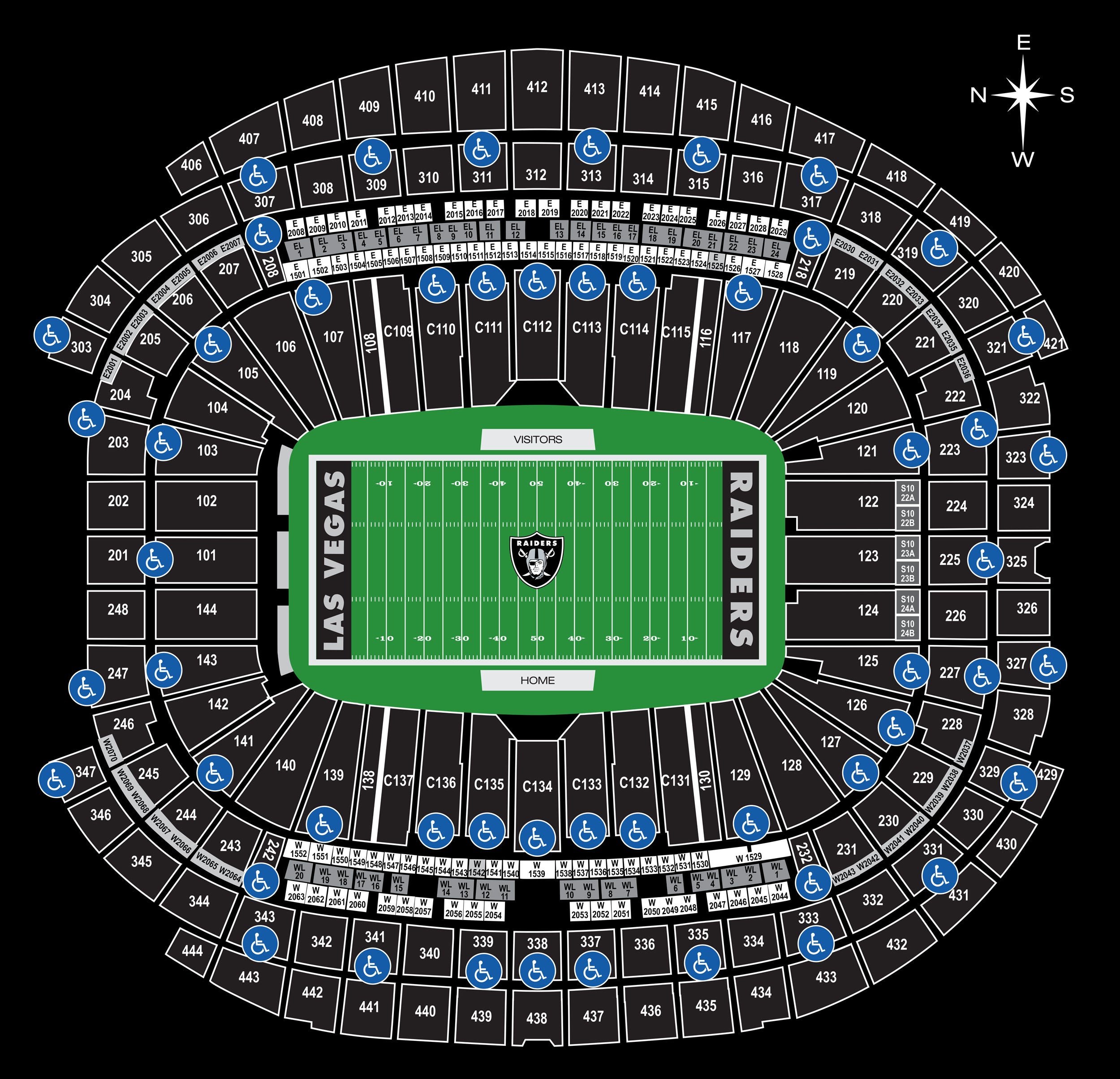 Accessible Parking will be available for guests at Allegiant Stadium. Parking pass holders in need of accessible parking will be directed by traffic and parking staff. A state-issued ADA parking placard, sticker, or license plate does not grant access to parking lots without a verified parking pass.
Auxilary Aids and Services
Guests requiring auxiliary aids and services are asked to contact the Guest Experience Hotline at (725) 780-2350 or [email protected] at least three (3) weeks prior to the event. Complimentary hearing amplification devices are available at the Guest Experience Headquarters located on the main concourse near section 101. Guests must present a photo ID or valid driver's license as a security deposit. Allegiant Stadium is committed to ensuring effective communication with guests at its events.
For guests with sensory processing needs, the following resources and accommodations are available.
Sensory Kits: Allegiant Stadium has partnered with KultureCity to provide sensory kits and bags for guests. Sensory bags are available for guests to check out at any of our guest experience kiosk locations inside the stadium at no cost for individuals. Sensory bags include a VIP lanyard for guest recognition, fidget tools, noise-reducing headphones, and a visual cue card. Writable weighted lap pad with markers are also available as needed.
Find Level 050 Kiosks Find Level 100 Kiosks Find Level 300 Kiosks
Sensory Nooks: Allegiant Stadium has two (2) Ford Sensory Nooks available for guests with sensory processing needs. The Ford Sensory Nooks are located on the 050 level inside the Northeast and Northwest Entry lobbies. Ford Sensory Nooks provide an inclusive and comfortable space and are equipped with vibration seating and dim lighting. For more information about the Ford Sensory Nook specifications, please visit nookpod.com/nook/sensory-nook.
Tours ADA and Accessibility Information
Service animals used to assist guests with disabilities are permitted in Allegiant Stadium. Due to seating arrangements at Allegiant Stadium, in the event that a service animal impedes any ingress or egress of fans, we reserve the right to relocate patrons with service animals to the nearest accessible seating area. It is encouraged that all guests who plan to bring a service animal to Allegiant Stadium contact [email protected].
Allegiant Stadium offers wheelchair services for guests with disabilities. To request wheelchair assistance, please contact [email protected] prior to the event, or visit the nearest Guest Experience location within Allegiant Stadium.
Restrooms/Family Restrooms
There are accessible public restrooms available throughout Allegiant Stadium (men, women and family). In particular, there are family restrooms designed to be accessible by guests with disabilities located in the following areas:
000 Event Level
Credit One Club and Champions Club
100 Level Main Concourse
Modelo Cantina Club and Twitch Lounge
Section 143
150 Suite Level Concourse
Aristocrat Club and West 150 Suite Level
200 Level Concourse
Shift4Club and San Manuel Club
Section 232
Section 247
300 Level Concourse
Section 307
Section 317
Section 343