Learn more about Allegiant Stadium's bag check and bag policy to provide a safer environment for the public and significantly expedite fan entry into Allegiant Stadium. For questions, please contact the Guest Experience department by emailing guestexperience@raiders.com.
Allegiant Stadium offers three (3) bag check locations. There is a $20 non-refundable charge per bag checked and payment is cashless. Debit/credit and mobile payment, such as Apple or Google Pay, are accepted forms of payment. Bag check opens the same time stadium entries open and closes one (1) hour post-event. Bags remaining after bag check closes will be returned to lost and found. For more information, please see LOST AND FOUND.
North Bag Check is located in Lot N, North of Hacienda Avenue
West Bag Check is located at 5455 Polaris Avenue
East Bag Check is located in Lot E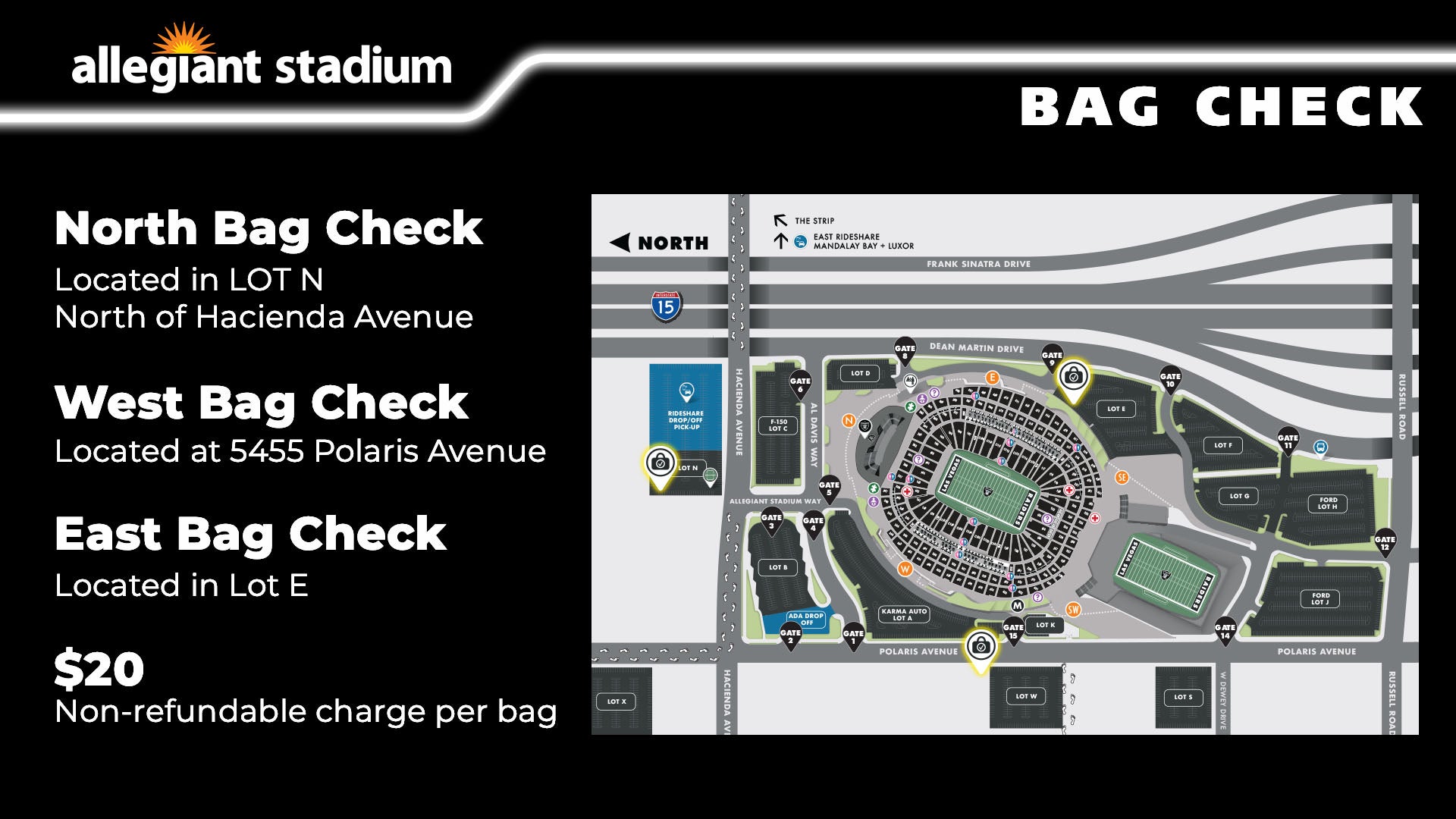 Bags must be clear plastic, vinyl or PVC and must not exceed 12" x 6" x 12"
Small clutch bags, 4.5" x 6.5" x 2" can be taken into the stadium in addition to one of the approved clear bags described above.
An exception will be made for any necessary medical items, but all such items are subject to inspection prior to entry into Allegiant Stadium. Prohibited items include, but are not limited to, purses larger than a clutch bag, coolers, briefcases, backpacks, fanny packs, cinch bags, seat cushions, luggage of any kind, computer bags, and camera bags or any bag larger than the permissible size. To learn more about the latest news regarding the bag policy, visit nfl.com/allclear.