Supplier Diversity Program
Allegiant Stadium and its partners are committed to strengthening the local, small, and diverse business community through direct engagement, mentoring, workshops, and development of strategic community relationships to optimize procurement and development opportunities.
The Products and Services We Buy
Allegiant Stadium purchases a range of products and services to support efficient operations, providing opportunities for companies to join our supply chain.
Examples of common procurement needs include:
Cleaning Materials
Equipment Maintenance
Furniture/Staging
Innovation
Janitorial Products
Laundry Services
Marketing Services
Office Supplies
Parts and Services
Pest Control Services
Printing/Copying Services
Promotional Products
Professional Services
Safety/PPE Products
Trash Removal Services
Uniforms
And more...
Click on the drop-downs below to learn more about qualifying, the supplier registration process, and Allegiant Stadium's Supplier Diversity Initiatives.
Qualifying Diversity Certifications
Based on the following characteristics, Allegiant Stadium has identified the following agencies and certifications to qualify businesses for the Allegiant Stadium's Supplier Diversity Program as it relates to procurement activities.
Characteristics of Rigor:
Application Requirements: focusing on the comprehensiveness of the initial application process
Renewal Requirements: focusing on the stringency of prerequisites to maintain certification status
Reciprocity Terms: focusing on agency agreements with outside certifying organizations where application standards could affect the integrity of their own
In addition, Allegiant Stadium acknowledges businesses that hold certifications from the following agencies of which will be included Allegiant Stadium's Diverse Supplier Engagement events and activities.
Organization
Certification Type
GOED: Nevada Governor's Office of Economic Dev.
ESB: Emerging Small Business
RTC: Regional Transportation Commission of Southern NV
LSB: Local Small Business
LDB: Local Diverse Business
NEVADA NUCP: Nevada Unified Certification Program
SBE: Small Business Enterprise
Supplier Registration Process
Allegiant Stadium's Supplier Registration is open to all companies interested in doing business with ASM Global, master operator of Allegiant Stadium.
Please complete all sections of the Allegiant Stadium Supplier Registration form. This will provide us with the necessary information to understand your company's capabilities and identify potential areas of alignment.
Once registered, businesses will be eligible to receive communication on various topics, including without limitation, the following:
Procurement Opportunities
Request for Quote (RFQ) and Request for Information (RFI) Opportunities
Supplier Engagement Events
Additional Events/Initiatives as Developed by Allegiant Stadium
Please note that submitting your business information through the Allegiant Stadium Supplier Registration form does not guarantee business opportunities with Allegiant Stadium.
Diverse Supplier Engagement Events
Allegiant Stadium will be hosting a series of annual events targeted towards local, small, and diverse businesses. See below for information on upcoming events.
Upcoming Events:
TBD
Past Events:
March 10-11, 2021: GridIron Pitch – Click to view recap
Supplier Diversity Partners
Allegiant Stadium recognizes the valuable work being performed by community-facing agencies. We take pride in establishing partnerships with organizations that support collaboration on Supplier Diversity initiatives within the local community.
News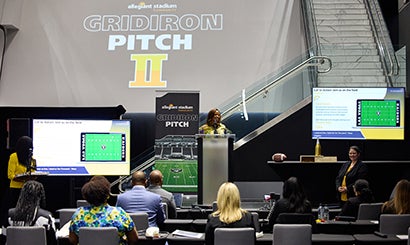 Allegiant Stadium hosted its 2nd Annual Diverse Supplier Engagement Event, GridIron Pitch II.
Read More