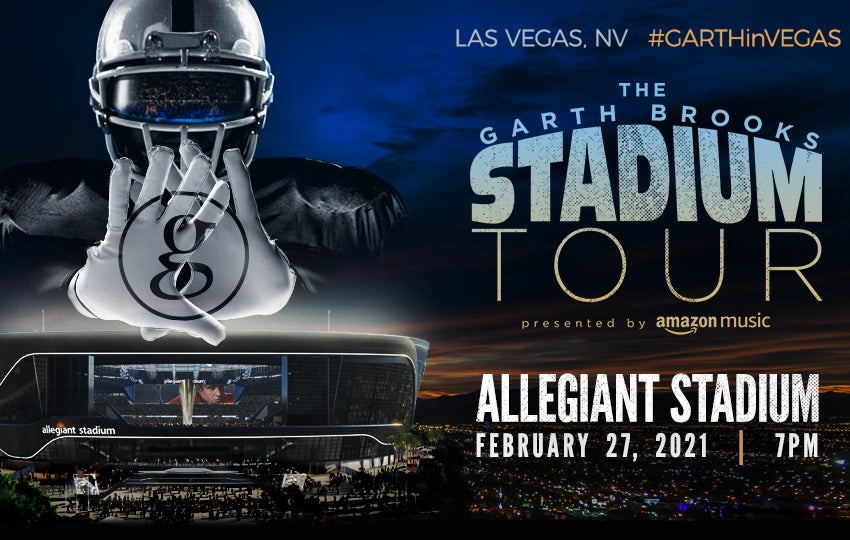 Garth Brooks Reschedules Allegiant Stadium Concert in Las Vegas
July

29

/ 2020
Garth Brooks Reschedules Allegiant Stadium Concert in Las Vegas
LAS VEGAS – Garth Brooks has rescheduled his upcoming stadium concert at Allegiant Stadium in Las Vegas. The concert was scheduled for August 22nd, the new date will now be February 27th, 2021. All tickets will be honored.

During the on sale, Garth sold over 65,000 tickets in 75 minutes.
About Garth Brooks
Garth Brooks is the 7-time CMA Entertainer of the Year, a first for any artist. He is also the first and only artist in history to receive eight Diamond Awards for the now eight albums certified by the RIAA at over 10 million album sales each. He remains the #1-selling solo artist in U.S. history, certified by the RIAA with 156 million album sales. In March, Garth received the esteemed Library of Congress Gershwin Prize for Popular Song. The event aired on PBS. He has received every accolade the recording industry can bestow on an artist.

In April, CBS aired Garth & Trisha Live! during prime time. The concert was live from their home recording studio, Studio G. They took song requests from fans live through Facebook. In November of 2019, A&E aired "Garth Brooks: The Road I'm On," over two consecutive nights. Part of their esteemed 'Biography' franchise, the documentary offered an intimate look at Garth's life as a musician and father over his entire career.

In January, Billboard announced that Garth Brooks was the first artist to make it on the Billboard Hot Country Songs chart in the 80s, 90s, 00s, 10s and now 20s. Garth debuted "Much Too Young (To Feel This Damn Old)" in 1989. Now, with "Dive Bar," a duet he sang with Blake Shelton, he makes his appearance on the list in 2020. The single inspired a DIVE BAR tour to dive bars in country music capitals around the country which will continue its run of stops through 2022.

Last year, Garth went vinyl with his meticulously-curated vinyl package, LEGACY. This career-defining collection includes No Fences, The Chase, In Pieces, Fresh Horses and Triple Live, plus CDs with bonus tracks for a total of 7 vinyl albums and 7 CDs in each edition.

In March 2019, Garth launched The Stadium Tour, which has broken stadium attendance records at every stop on the tour so far. Pollstar announced at the end of last year that The Garth Brooks Stadium Tour was the best selling country music tour of 2019. In 2017, Garth finished the three-and-a-half-year long Garth Brooks World Tour with Trisha Yearwood. The tour sold over 6.3 million tickets, making it the biggest North American tour in history and the biggest American tour in the world.

Garth also has Inside Studio G, a weekly Facebook Live series. It airs every Monday on Garth's Facebook page at 7:00 PM EST.
About Allegiant Stadium
Located adjacent to the world-famous Las Vegas Strip, Allegiant Stadium will be a global events destination, highlighted by the arrival of the NFL's iconic Raiders. Allegiant Stadium will be ideally located for both visitors and locals, fully enclosed and climate controlled with a capacity of 65,000. The technologically advanced stadium will host world-class entertainment including concerts and sporting events such as the Pac-12 Championship Game and Las Vegas Bowl, as well as become the future home of UNLV Football. The stadium project is expected to generate an economic benefit of $620 million annually, while creating 6,000 permanent jobs in Southern Nevada For more information, visit www.allegiantstadium.com or follow them on Facebook, Twitter and Instagram.
About ASM Global
ASM Global is the world's leading venue management and services company. The company was formed by the combination of AEG Facilities and SMG, global leaders in venue and event strategy and management. The company's elite venue network spans five continents, with a portfolio of more than 325 of the world's most prestigious arenas, stadiums, convention and exhibition centers, and performing arts venues. From Aberdeen to Anchorage, and Sydney to Stockholm, its venues connect people through the unique power of live experiences. ASM Global's diverse portfolio of clients benefit from the company's depth of resources and unparalleled experience, expertise and creative problem-solving. Each day, the company's 61,000 passionate employees around the world deliver locally tailored solutions and cutting-edge technologies to deliver maximum results for venue owners and amazing experiences for guests. By consistently looking for new ways to envision, innovate and empower the spaces and places that bring people together, ASM Global elevates the human spirit.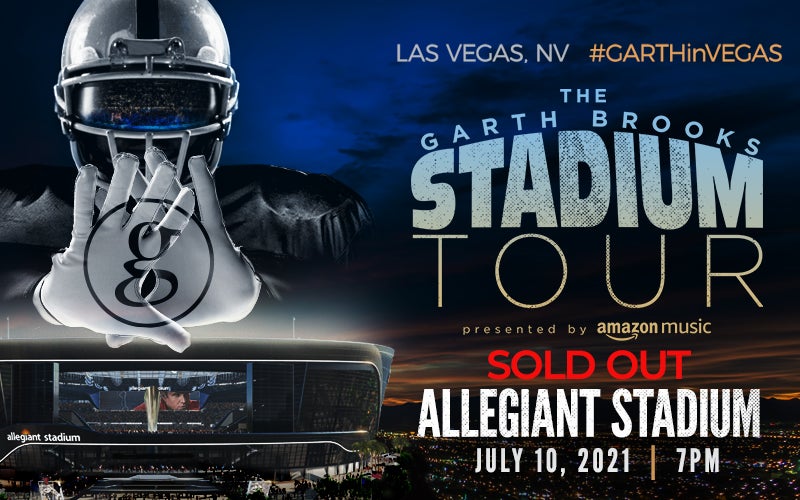 The Garth Brooks Stadium Tour will take place on Saturday, July 10, 2021.