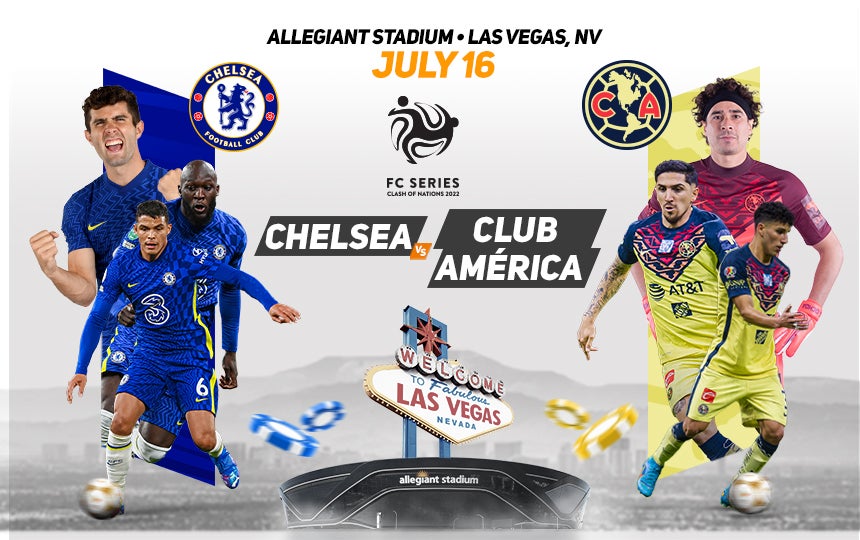 Allegiant Stadium to Host International Club Soccer Champions England's Chelsea FC and Mexico's Club América
May

18

/ 2022
Allegiant Stadium to Host International Club Soccer Champions England's Chelsea FC and Mexico's Club América
LAS VEGAS (May 18, 2022) – Las Vegas will once again welcome elite international club soccer competition at Allegiant Stadium, when 2020-2021 UEFA Champions League Champion Chelsea FC and Mexico's winningest team Club América face off on Saturday, July 16, 2022.
Tickets for the match will go on sale via Ticketmaster on Wednesday, May 25 at 10:00 a.m. local.
Petr Čech, Chelsea FC Technical and Performance Advisor said: "We've always had a lot of success on our US tours, taking so many fans to the stadiums and giving them the opportunity to see Chelsea FC play live. We have a huge fan base in the U.S. that we've proudly built, and we've seen that fan base getting bigger and bigger every year.
"We are delighted to go and play in the FC Series and the Florida Cup, where in total we will have three competitive games to prepare well for our upcoming season and to show what we can do to the American audience."
"We are very excited to face rivals like Chelsea FC. It is an honor to us, playing with such a big UK team, thank you for the invitation," said Santiago Baños, president of Club America. "This will be an incredible opportunity for all our fans and the UK fans to know and to enjoy Mexican football, and also to expand our league. I invite all azulcremas to join us the July 16 at this global, elite match."
"Bringing a match of this caliber to Las Vegas will create unparalleled excitement and energy, and we can't wait to welcome fans from around the world," said Steve Hill, CEO/President of the Las Vegas Convention and Visitors Authority. "The players, fans and staff will enjoy the many "Only Vegas" experiences that make Las Vegas the greatest arena on earth, from world class entertainment to unrivaled dining, sports and attractions."
"We're thrilled to be welcoming these world class athletes and their fans to Allegiant Stadium," said Chris Wright, General Manager of Allegiant Stadium. "Las Vegas continues to be a global hub for sports and entertainment, and we can't wait to witness this matchup of legendary teams while providing every participant and spectator an unapparelled experience that only this venue can offer."
Chelsea, the two-time Champions League and six-time English Premier League champions, features World Cup bound stars such as American striker Christian Pulisic, Belgium goal-scorer Romelu Lukaku, England National Team's standout Mason Mount as well as Senegalise Africa Cup of Nations champion Edouard Mendy. The club will be on tour in the United States ahead of their 2022 Premier League season.
Club América, winner of more league championships than any other Mexican club (13), and the most international club titles in Concacaf (7), is led by four-time World Cup veteran Mexican National Team goalkeeper Guillermo Ochoa and goal-scorers Henry Martin and Roger Martinez.
The Las Vegas match will mark the third all-time game between the Chelsea and Club America, all of which have occurred in the United States. In 2007, the Premier Club defeated América 2-1 in Stanford, Calif. in front of nearly 50,000 fans, and in 2009, Chelsea again defeated the Mexican club 2-0, in Dallas with nearly 60,000 fans in attendance. Former French national Florent Malouda scored a goal in each of the matches.
Opened in Summer 2020 and the proud home of the NFL's Las Vegas Raiders, Allegiant Stadium has become a regular host of marquee soccer competitions, including the 2021 Leagues Cup Final and 2021 Concacaf Gold Cup Final, which became the fastest sellout in tournament history (90 minutes) and first sellout for a sporting event at Allegiant Stadium.
The match is part of this summer's FC Series event featuring international matches across the United States. The series concludes with a stateside derby between Arsenal and Chelsea, two of the world's most popular and successful professional soccer clubs, at Camping World Stadium in Orlando on July 23. Major League Soccer's Orlando City SC will host Arsenal FC on July 20, while Charlotte FC today announced the club will host Chelsea FC on July 20 at Bank of America Stadium.
A full schedule is below. Additional information on the July 16 international match in Las Vegas, including broadcast information and media accreditation, will be announced at a later date. More event details, including ticket information, is available at FCSeries.com.
SATURDAY, JULY 16
Chelsea FC (England) vs. Club America (Mexico)
Allegiant Stadium
Las Vegas, NV
WEDNESDAY, JULY 20
Arsenal FC (England) vs. Orlando City SC (USA)
Exploria Stadium
Orlando, FL
Chelsea FC (England) vs. Charlotte FC (USA)
Bank of America Stadium
Charlotte, NC
SATURDAY, JULY 23 - FLORIDA CUP
Arsenal FC (England) vs. Chelsea FC (England)
Camping World Stadium
Orlando, FL
Allegiant Stadium hosts International Club Soccer Champions, England's Chelsea FC and Mexico's Club América, on July 16!