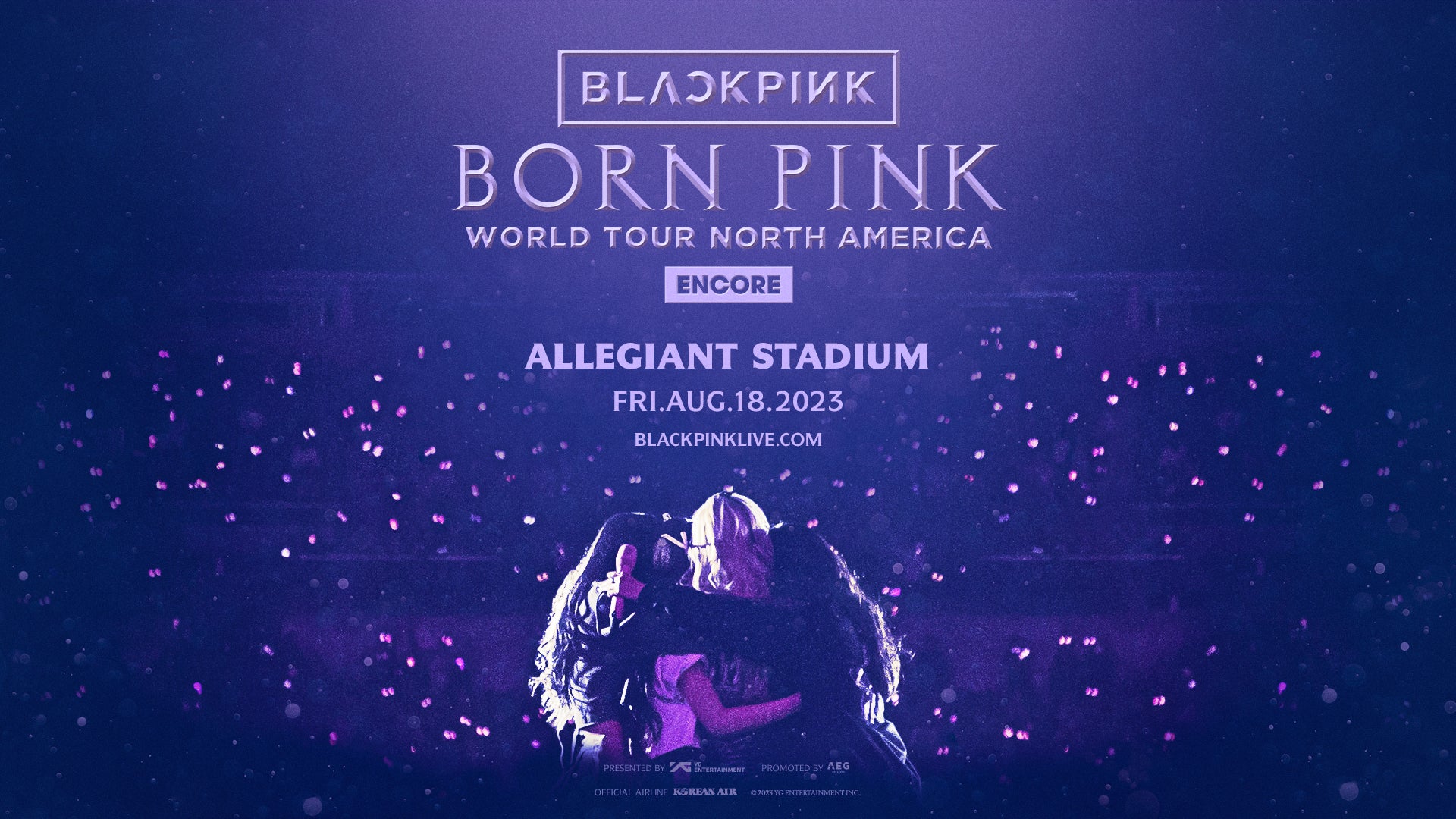 BLACKPINK announces [BORN PINK] WORLD TOUR ENCORE in North America
Apr

17

/ 2023
BLACKPINK announces [BORN PINK] WORLD TOUR ENCORE in North America
Today, after a showstopping headlining performance at Coachella, global superstar BLACKPINK announce their WORLD TOUR [BORN PINK] ENCORE in NORTH AMERICA, with stops at a limited number of major stadiums across the US. Starting on August 12th, BLACKPINK will perform at MetLife Stadium in East Rutherford, Allegiant Stadium in Las Vegas, Oracle Park in San Francisco, and wrap up on August 26th at Los Angeles's iconic Dodger Stadium.
For information regarding how to register/verify your registration for the BLINK MEMBERSHIP PRESALE and to register for the GENERAL PRESALE visit blackpinklive.com. In order to be eligible for the BLINK MEMBERSHIP PRESALE, fans must have a BLINK MEMBERSHIP via Weverse and need to register for the official presale on the platform HERE.
The BLINK MEMBERSHIP PRESALE begins Wednesday, April 26th at 10am local time. American Express® Card Members can purchase tickets before the general public. Amex® Early Access begins Wednesday, April 26th at 12pm local time through Thursday, April 27th at 10pm local time.
A limited number of VIP tickets will also be available starting Wednesday, April 26th at 10am local time. VIP packages can include an amazing selection of reserved seated tickets, access to an exclusive preshow soundcheck performance by BLACKPINK, limited-edition merchandise and more.
Public on sale is Friday, April 28th at 10am local time. A complete list of tour dates is below.
"… every song, every note, that is performed is full of the band's distinct brand of charismatic bombast and every-girl power, embodied by members JISOO, JENNIE, ROSÉ and LISA." - Variety
Following the release of their recent single "Shut Down", the record-breaking group and the most-subscribed music act on YouTube with over 86.6 million followers, also set two Guinness World Records including most-viewed music video within the first 24 hours (with the release of their first single "Pink Venom"), in addition to earn the status of most-followed girl group on Spotify.
BLACKPINK recently made history with the biggest release by a female group or solo artist this decade for their single "Pink Venom" from their album BORN PINK. The song debuted at No. 1 on Spotify's global top songs chart and amassed over 7.9M streams within the first 24 hours. On YouTube, the official music video reached 100M views faster than any video by a female group ever, with 90.4M views being within the first 24 hours. Already at over 570M views, this was the biggest YouTube debut of 2022. Listen and order BORN PINK HERE.
Catch BLACKPINK's Coachella Weekend 2 headlining set this Saturday HERE.
BLACKPINK WORLD TOUR [BORN PINK] ENCORE in NORTH AMERICA:
Saturday, August 12th, 2023 East Rutherford, NJ MetLife Stadium
Friday, August 18th, 2023 Las Vegas, NV Allegiant Stadium
Tuesday, August 22th, 2023 San Francisco, CA Oracle Park
Saturday, August 26th, 2023 Los Angeles, CA Dodger Stadium
ABOUT BLACKPINK
One of the most massively successful K-pop groups in music history, BLACKPINK have redefined the global pop landscape since first bursting onto the scene in 2016. Along with boasting the #1 most-subscribed artist channel on YouTube, the South Korean quartet has achieved such boundary-defying milestones as scoring the highest-charting album by a female group in over a decade and becoming the first K-pop girl group ever to perform at Coachella (the largest music festival in the U.S.). Comprised of JISOO, JENNIE, ROSÉ and LISA—all immensely charismatic vocalists, dancers, and fast-rising fashion icons—BLACKPINK began their meteoric rise with their 2016 debut SQUARE ONE and further proved their crossover power with SQUARE UP (a 2018 release that quickly cracked the Billboard 200). Soon after signing with Interscope Records through a global partnership with YG Entertainment, the group made their full-length debut with 2020's immediately iconic THE ALBUM. THE ALBUM shot to #2 on the Billboard 200 and landed three singles on the Billboard Hot 100: "How You Like That" (the iconic single that shattered several YouTube records, including fastest video to cross 150 million views), "Ice Cream" (a collaboration with Selena Gomez that broke the record for highest-charting female K-pop group on the Hot 100), and "Lovesick Girls" (a track that's sold over 1.4 million copies worldwide, making BLACKPINK the first K-pop girl group to sell over a million units). Through the years, BLACKPINK have also garnered a number of major awards (including three E! People's Choice Awards and most recently awarded Best Metaverse Performance at the 2022 MTV Video Music Awards where Lisa also made history as first K-pop soloist to win Best K-pop Act), collaborated with superstars like Dua Lipa and Lady Gaga, performed on "The Tonight Show," and starred in <BLACKPINK: Light Up the Sky> (a 2020 film hailed by the New York Times as an "endearing documentary that emphasizes each member's individuality"). With over 9 billion career Spotify streams to date, BLACKPINK are now conquering the world with their recent album BORN PINK. The group is now touring the entire planet with their second studio album, already made the United States and Europe, while in 2023 the group will hit the road in Asia and Mexico.
About AEG Presents
Combining the power of the live event with a focus on true artist development, AEG Presents is a world leader in the music and entertainment industries. Operating across five continents, the company has an unparalleled commitment to artistry, creativity, and community. Its tentpole festivals and multi-day music events — which include the iconic Coachella Valley Music & Arts Festival and the legendary New Orleans Jazz & Heritage Festival alongside British Summer Time at Hyde Park, Stagecoach, Hangout Festival, Electric Forest, and Firefly — continue to set the bar for the live music experience. AEG Presents promotes global tours for artists such as The Rolling Stones, Ed Sheeran, Elton John, Taylor Swift, Celine Dion, Justin Bieber, Kenny Chesney, Paul McCartney, and Katy Perry, in addition to — through its network of clubs, theatres, arenas, stadiums and renowned partner brands such as The Bowery Presents, Concerts West, Frontier Touring, Goldenvoice, Madison House Presents, Marshall Arts, Messina Touring Group, PromoWest Productions, and Zero Mile Presents — creating and developing an unmatched infrastructure for artist development and audience reach. More information can be found at www.aegpresents.com.
Media Contacts
For BLACKPINK:
Interscope Records
Rebecca Marlis
Hillary Siskind
For AEG Presents:
Dennis Dennehy
Sam Johnson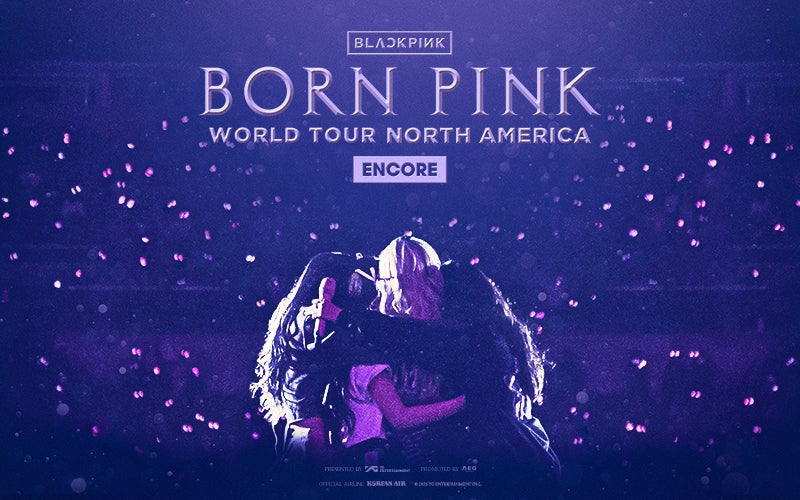 After a showstopping headlining performance at Coachella, global superstar BLACKPINK announce their WORLD TOUR [BORN PINK] ENCORE in North America.