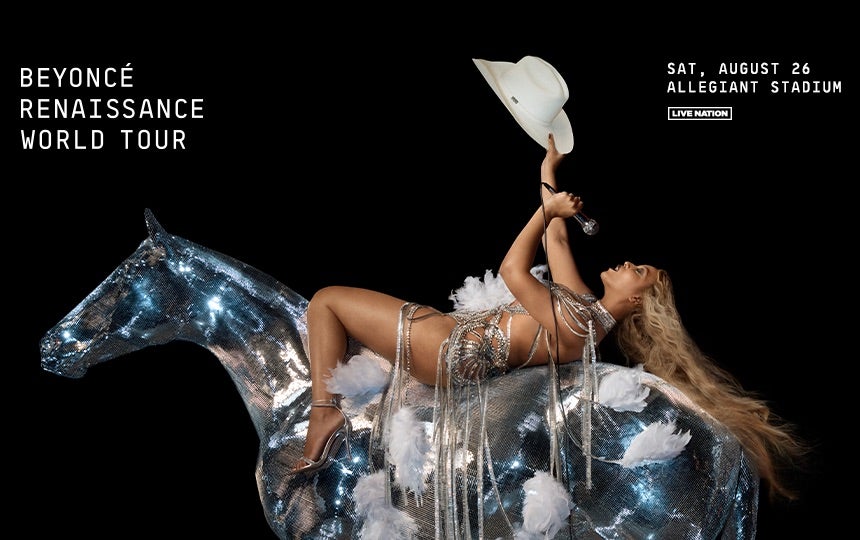 BEYONCÉ RENAISSANCE WORLD TOUR Coming to Allegiant Stadium on August 26, 2023
Feb

1

/ 2023
BEYONCÉ RENAISSANCE WORLD TOUR Coming to Allegiant Stadium on August 26, 2023
Following the wildly successful release of BEYONCÉ's seventh studio album, RENAISSANCE, the global superstar has announced RENAISSANCE WORLD TOUR today, her first solo tour in over six years. The tour will make a Las Vegas stop at Allegiant Stadium on Saturday, Aug. 26, 2023.
The North American leg of the tour is leveraging Ticketmaster's Verified Fan technology to ensure more tickets get into the hands of concertgoers. Fans can register now HERE. Ticketing will begin Monday, February 6, 2023, starting with an exclusive presale to BeyHive members.
The 2023 tour, produced by Parkwood Entertainment, and promoted by Live Nation, kicks off on May 10, 2023, at Friends Arena in Stockholm, SE, making stops throughout Europe in Cardiff, Edinburgh, Sunderland, Paris, London, Marseille, Amsterdam, Warsaw and more. The tour then continues across North America with shows in Toronto, Chicago, East Rutherford, Atlanta, Las Vegas, Los Angeles, Houston and more.
RENAISSANCE WORLD TOUR will also visit Brussels, Barcelona, Cologne, Frankfurt, Hamburg, and more in Europe in May & June. Additional North American cities include Boston, Charlotte, Dallas, Detroit, Kansas City, Louisville, Miami, Minneapolis, Nashville, New Orleans, Philadelphia, Pittsburgh, San Francisco, St. Louis, Tampa, Vancouver and more.
As with previous tours, Beyoncé will make her mark offstage, too, with BeyGOOD, the initiative she founded in 2013 to support people and programs around the world. BeyGOOD will continue its legacy of philanthropy, building out this focus on economic equity by supporting organizations that serve marginalized and underserved communities with access to scholarships, opportunities for internships that lead to job placement, and resources to support entrepreneurship.
In various cities throughout the tour, BeyGOOD will support entrepreneurs through Black Parade Route luncheons, celebrating small business owners, with grant opportunities being awarded and a foray of services with global partners to promote business sustainability. One thousand small businesses will be supported with a commitment totaling one million dollars.
BeyGOOD will also support students through scholarship funds that will be given to colleges and universities in ten different cities along the tour. Each school will be given one hundred thousand dollars and will select the student recipients. BeyGOOD's total scholarship commitment during RENAISSANCE WORLD TOUR will be one million dollars.
Working with Beyoncé and the BeyGOOD Foundation, Citi and Verizon will purchase 100 tickets combined in each market across the U.S. touring leg for distribution to local community initiatives.
A noted partner with Beyoncé, Tiffany & Co. is the official jeweler of RENAISSANCE WORLD TOUR. Tiffany & Co. has a longstanding commitment to conducting itself responsibly, sustaining the natural environment, prioritizing diversity and inclusion, and positively impacting the communities in which it operates.
TICKETING DETAILS:
On sale dates:
North American Dates: Verified Fan Registration is open now and closes at different times based on city. Visit beyonce.livenation.com for the exact details as ticketing on sale timelines vary by city.
European Dates: Check your local event listings for complete ticket information regarding European dates of the tour.
Presale dates:
Citi Presale powered by Verified Fan: Citi is the official credit card of RENAISSANCE WORLD TOUR. After the Verified Fan process, Citi cardmembers may have the opportunity to access the special Citi Presale powered by Verified Fan for tour dates in the United States. For those who are not existing Citi cardmembers, consumers can apply for the Citi Custom Cash Card online. If approved, new cardmembers may request instant access to their card for the Citi Presale powered by Verified Fan.* For complete presale details visit www.citientertainment.com and for details on Custom Cash instant access visit www.citientertainment.com/faq.
Verizon Up Presale: Verizon Up customers can access this presale by visiting Verizon Up. Verizon will offer an exclusive presale for RENAISSANCE WORLD TOUR in the U.S through the customer loyalty program Verizon Up. Customers will have access to purchase presale tickets for select shows.
For complete ticketing and additional information visit beyonce.livenation.com and tour.beyonce.com.
*Citi Instant Access Process: *If approved for the card after applying online, new Citi Custom Cash cardmembers must write down their temporary account information to have ready when they go to try to make a purchase during the presale. They will not have access to their information again until the physical card arrives in the mail, which may take 7-10 days.
About Parkwood Entertainment
Parkwood Entertainment is a film and production company, record label and management firm founded by entertainer and entrepreneur, Beyoncé Knowles-Carter in 2010. With offices in Los Angeles and New York City, the company houses departments in music, film, video, live performances and concert production, management, business development, marketing, technology, creative, philanthropy, and publicity. Under its original name, Parkwood Pictures, the company released the film Cadillac Records (2008), in which Beyoncé starred and co-produced. The company has also released the films Obsessed (2009), with Beyoncé as star and executive producer, the winner of the Peabody Award for Entertainment, Lemonade (2017), the Emmy®-nominated Homecoming: A Film By Beyoncé (2019), which documents Beyoncé's history-making performance at the Coachella Valley Music & Arts Festival in 2018, and the Emmy®-winning Black Is King (2020). Parkwood Entertainment produced The Mrs. Carter Show World Tour (2013-2014), The Formation World Tour (2016), and the aforementioned "Homecoming" performances at Coachella (2018) and co-produced the ON THE RUN Tour (2014) and ON THE RUN II (2018).
About Live Nation Las Vegas
Live Nation Entertainment (NYSE: LYV) is the world's leading live entertainment company comprised of global market leaders: Ticketmaster, Live Nation Concerts, and Live Nation Sponsorship. Live Nation Las Vegas produces residency shows from Garth Brooks, Sting and Rod Stewart at The Colosseum at Caesars Palace; Maroon 5, Usher, Lady Gaga, Aerosmith and Bruno Mars at Dolby Live at Park MGM; The B-52s, ZZ TOP, Earth, Wind & Fire, FOREIGNER, STYX and Chicago at The Venetian Theatre at The Venetian Resort Las Vegas; The Chicks, Keith Urban and Miranda Lambert at Zappos Theater at Planet Hollywood Resort & Casino; and Santana at House of Blues. Live Nation Las Vegas also brings other world-famous artists to many of the city's other premier concert venues including Allegiant Stadium, T-Mobile Arena, MGM Grand Garden Arena, Michelob ULTRA Arena, the Pearl at Palms Casino Resort, Downtown Las Vegas Events Center and more. For additional information, visit www.livenationentertainment.com. Find Live Nation Las Vegas on Facebook, Instagram and Twitter.
About Allegiant Stadium
Located adjacent to the world-famous Las Vegas Strip and home to the Las Vegas Raiders, Allegiant Stadium is an award-winning global events destination. A state-of-the-art, multipurpose venue with a capacity of 65,000, Allegiant Stadium has hosted world-class music artists such as Garth Brooks, The Rolling Stones, Guns N' Roses, Illenium and BTS with more legendary concerts to come. The fully enclosed stadium is also home to the UNLV Rebels football team and has hosted premier sporting events such as the CONCACAF Gold Cup Final, Pac-12 Championship Game, Las Vegas Bowl, and WWE SummerSlam. The venue also hosted the NFL Pro Bowl in 2022 and has been selected to host Super Bowl LVIII in 2024. Allegiant Stadium is committed to giving back to the community though numerous diversity, inclusion, and community outreach initiatives. For more information on Allegiant Stadium, visit www.allegiantstadium.com or follow us at @allegiantstadm on Twitter and @allegiantstadium on Instagram.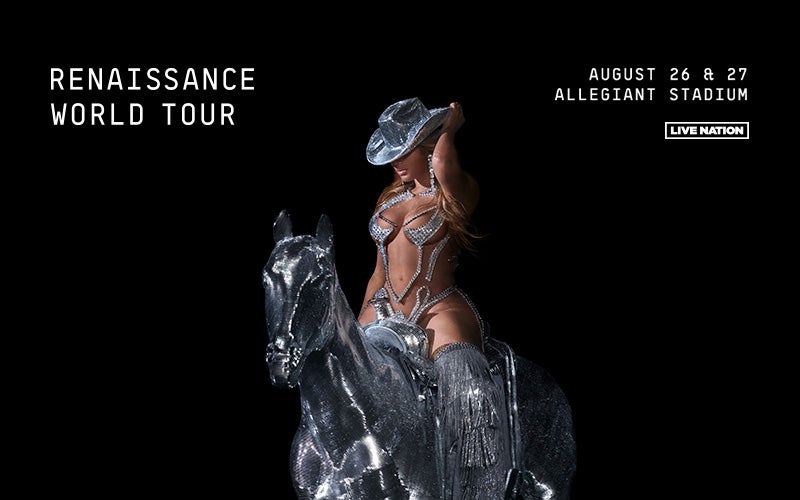 Beyoncé returns to the global stage for the RENAISSANCE WORLD TOUR, her first solo tour in over six years.