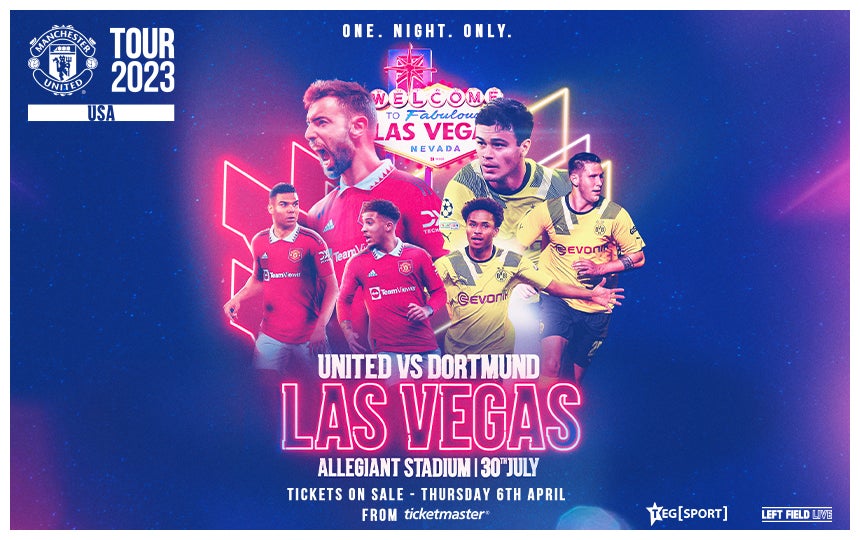 Allegiant Stadium to host two of the world's biggest clubs in Las Vegas on Sunday, July 30, 2023
Apr

4

/ 2023
Allegiant Stadium to host two of the world's biggest clubs in Las Vegas on Sunday, July 30, 2023
Allegiant Stadium in Las Vegas, Nevada will welcome global soccer heavyweights this summer, as two of the world's most supported clubs in England's Manchester United and Germany's Borussia Dortmund face off on Sunday, July 30 at 6:00 PM. General public tickets go on sale Thursday, April 6 at 9:00 AM PT via Ticketmaster at the link found HERE.
This fixture will provide fans with the chance to see United's star-studded squad highlighted by top goal scorer Marcus Rashford, fan favourite Bruno Fernandes and World Cup winner Lisandro Martínez take on the in-form Dortmund that features American star Giovanni Reyna, Dortmund's top goal scorer in the Bundesliga Julian Brandt and German legend Marco Reus.
This is the second fixture of United's summer tour of the US to be announced, after last week they confirmed a clash against Wrexham AFC in San Diego, which sold out in days. The Red Devils will play in Las Vegas for the first time in their history, a significant moment for the club as part of their preparation for the 2023/24 season.
For Borussia Dortmund, this will be the club's first visit to the United States since 2019 and their fourth visit ever, with their first trip across the Atlantic taking place in 1954. The club has seen a rise in American followers over the last decade, providing many American players with their first taste of elite European soccer.
United have not faced Bundesliga side Borussia Dortmund since a 2016 tour game in China and the pair have only played six competitive matches in history – making this summer's encounter a rare opportunity for US fans to see two of the UK and Europe's leading football clubs go head-to-head in the entertainment and sports capital of the world, Las Vegas.
Manchester United Football Director, John Murtough said:
"We have worked with the manager and his staff to provide a mix of competitive opponents to play during our tour of the US and we look forward to the match against Borussia Dortmund.
"As well as gaining valuable playing time, the squad will also be participating in training camps within the best sporting facilities available, giving our players the opportunity to build fitness before the start of the new Premier League season.
"The response we have received from fans since announcing we will be returning to the US has been incredible. We already have a full house for the match in San Diego and I am sure it will be the same for this fixture in Vegas."
BVB Managing Director Carsten Cramer said:
"I think back with great pleasure to the summer of 2016 when we played Manchester United in front of a large crowd in Shanghai at the time. Now we look forward to returning to North America, where the market is becoming increasingly important in the run-up to the 2026 World Cup and the enthusiasm for football is growing.
Not only does the Allegiant Stadium look great from the outside, but the enthusiastic fans in the USA, who we have missed since our last visit, will ensure that the game in Las Vegas will hold a special place in BVB's history."
Sporting Director Sebastian Kehl added:
"If you take a look at which major clubs are spending part of their pre-season in the USA this summer, also playing high-profile friendlies as part of it, then it is only logical that we as Borussia Dortmund do not miss out on this either. In the coming weeks, our focus in planning the trip will be on creating the perfect mix between training and matches, as well as interaction with the local people."
"Manchester United and Borussia Dortmund are two heavyweights of world football and we are thrilled to bring this clash to Las Vegas," added Geoff Jones, CEO of TEG Sport.
"This is the next chance for fans to experience Manchester United up close in the US and experience all that the iconic city of Las Vegas has to offer. We expect demand to be strong, with fans from across the US, UK and Europe travelling to Las Vegas for this event."
FOR FURTHER INFORMATION:
Adam Geigerman
+1 (678) 575-9338
On behalf of TEG Sport and Left Field Live
Tiffany Miller
On behalf of Allegiant Stadium
ABOUT MANCHESTER UNITED
Manchester United is one of the most popular and successful sports teams in the world, playing one of the most popular spectator sports on Earth. Through our 145-year heritage we have won 67 trophies, enabling us to develop the world's leading sports brand and a global community of 1.1 billion fans and followers. Our large, passionate community provides Manchester United with a worldwide platform to generate significant revenue from multiple sources, including sponsorship, merchandising, product licensing, new media & mobile, broadcasting and match day.
ABOUT BORUSSIA DORTMUND
Borussia Dortmund is one of the most traditional and popular German football clubs. Founded in 1909, BVB boasts more than 10 million fans within Germany and, in addition, also looks to a rapidly growing fan base worldwide. The eight-time German champions and five-time DFB-Pokal winner was in 1966 the first German club to win a European Cup competition. BVB also became the first Bundesliga club to win the UEFA Champions League in 1997, followed by the Intercontinental Cup in the same year. Economically, too, Borussia Dortmund nowadays is one of the strongest football clubs in the world.
ABOUT TEG SPORT
TEG Sport is a producer and promoter of live sporting events featuring the world's biggest sporting teams and brands. TEG Sport is owned by TEG, a leading global live entertainment, ticketing, and technology business which operates worldwide out of seven country offices. TEG also includes TEG Live, TEG Experiences, TEG Dainty, TEG MJR, TEG Van Egmond, Laneway Festival, Handsome Tours, TEG Rockefeller, Qudos Bank Arena, Ticketek, Ticketek Marketplace, Eventopia, Softix, TicketCharge, TicketWorld, Ticketek Singapore and Ovation. Life is Better Live. Whether it's Sport, Concerts, Musicals, Theatre or Exhibitions, nothing beats the live experience! For more information www.teg.com.au
ABOUT LEFT FIELD LIVE
Left Field Live (LFL) is an international live sports events business created to help sports rights holders reach new and interesting markets. LFL has delivered events across a range of sports including rugby union, international soccer, ice hockey, basketball, college football and baseball into markets like Australia, North America, Asia, the Middle East, UK and Europe.
ABOUT ALLEGIANT STADIUM
Located adjacent to the world-famous Las Vegas Strip and home to the Las Vegas Raiders, Allegiant Stadium is an award-winning global events destination. A state-of-the-art, multipurpose venue with a capacity of 65,000, Allegiant Stadium has hosted world-class music artists such as Garth Brooks, The Rolling Stones, Guns N' Roses, Taylor Swift, and BTS with more legendary concerts to come. The fully enclosed stadium is also home to the UNLV Rebels football team and has hosted premier sporting events such as the CONCACAF Gold Cup Final, Pac-12 Championship Game, Las Vegas Bowl, and WWE SummerSlam. The venue also hosted the NFL Pro Bowl in 2022 and has been selected to host Super Bowl LVIII in 2024. Allegiant Stadium is committed to giving back to the community though numerous diversity, inclusion, and community outreach initiatives. For more information on Allegiant Stadium, visit www.allegiantstadium.com or follow us at @allegiantstadm on Twitter and @allegiantstadium on Instagram.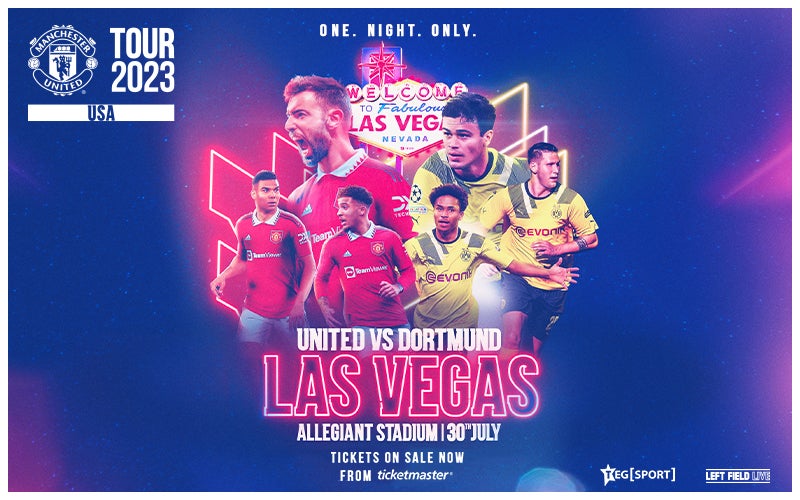 Allegiant Stadium will welcome global soccer heavyweights this summer, England's Manchester United and Germany's Borussia Dortmund on Sunday, July 30.