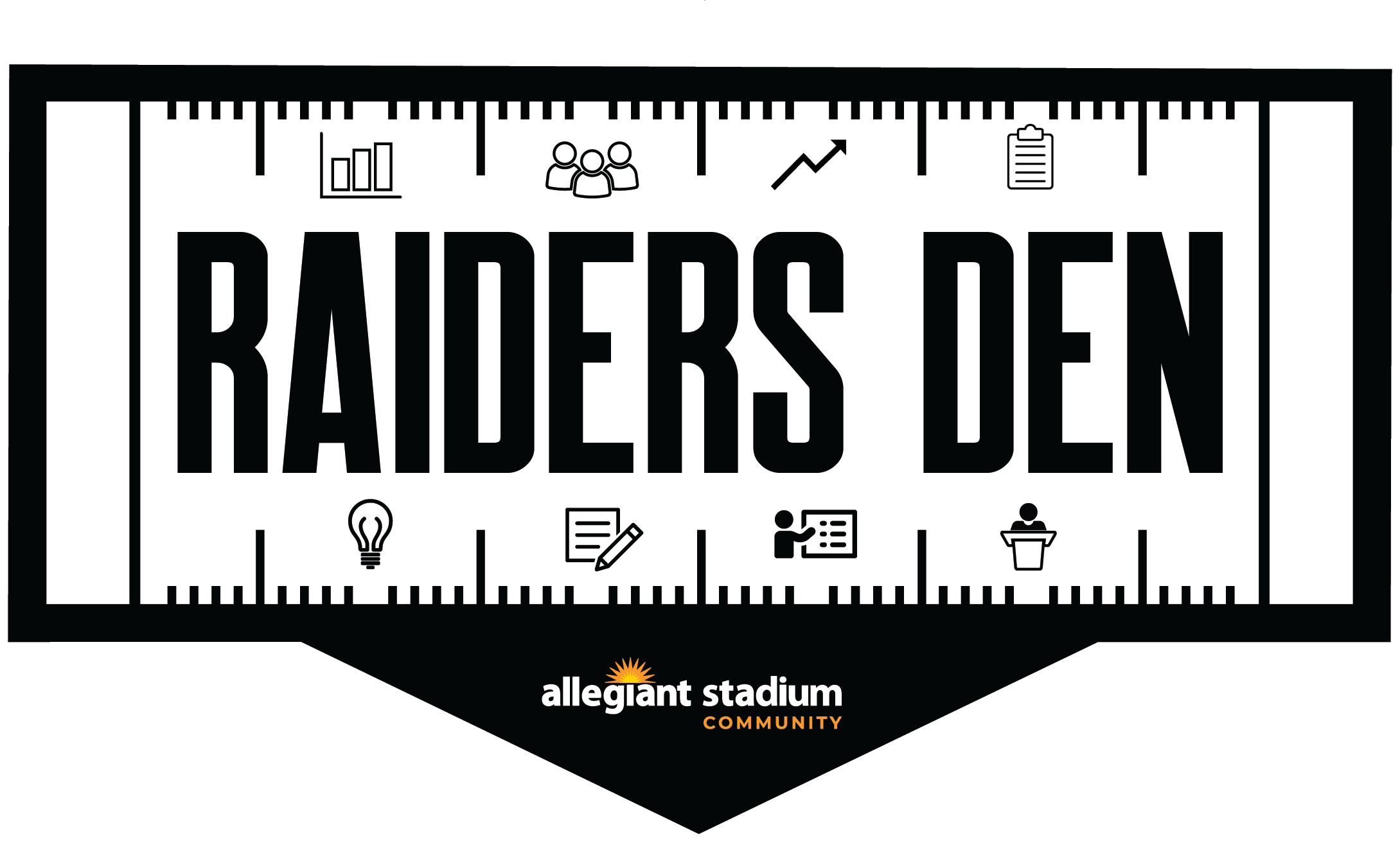 Allegiant Stadium announces Raiders Den Community Program
June

9

/ 2023
Allegiant Stadium announces Raiders Den Community Program
Today Allegiant Stadium announced Raiders Den – a dynamic seven-day summer program designed exclusively for high school students currently enrolled at accredited high schools in Southern Nevada. Created by Allegiant Stadium Community in collaboration with stadium Community Advisory Board members, this initiative invites aspiring entrepreneurs to present their product or business ideas that they believe will make a positive impact on the stadium. The Raiders Den program will take place at Allegiant Stadium on select dates from July 10-26, 2023.
Application Deadline: Students interested in participating must apply HERE before June 30th
Program Dates: Select dates from July 10-26, 2023
Aligned with Allegiant Stadium's core principles of career development and supplier diversity, the Raiders Den program provides a unique platform for students to receive coaching and mentorship from industry experts. Through this immersive experience, participants will tap into a wealth of knowledge and guidance to refine their innovative concepts learning from sessions such as "Finding Your Idea," "Conducting Market Research," "Business Planning and Pitching," and more.
"We believe in the power of community and the transformative impact it can have," remarked Neumiia Duncan-Reed, Allegiant Stadium's VP of Human Resources and Community Affairs. "Collaborating with the dedicated members of our Community Advisory Board on meaningful programs like Raiders Den allows us to remain driven by the spirit of community engagement while continuing to foster a vibrant and inclusive community in Southern Nevada and beyond."
"We are so excited for the opportunity to give back to our community youth and provide access to resources to learn valuable entrepreneurial skills from industry experts through Raiders Den," said Brandon Chambers, Allegiant Stadium Director of Community Impact. "It is our hope that this program will inspire students to embrace their entrepreneurial drive while showcasing their creativity and talents."
By nurturing creativity and fostering an environment where groundbreaking ideas thrive, Raiders Den aims to ignite the spirit of innovation and empower the next generation of visionary leaders.
For more information and details on how to apply, visit:
https://www.allegiantstadium.com/community/raiders-den-program
Allegiant Stadium PR inquiries:
Tiffany Miller, tmiller@allegiantstadium.com
ABOUT ALLEGIANT STADIUM
Located adjacent to the world-famous Las Vegas Strip and home to the Las Vegas Raiders, Allegiant Stadium is an award-winning global events destination. A state-of-the-art, multipurpose venue with a capacity of 65,000, Allegiant Stadium has hosted world-class music artists such as Garth Brooks, The Rolling Stones, Guns N' Roses, Taylor Swift and BTS with more legendary concerts to come. The fully enclosed stadium is also home to the UNLV Rebels football team and has hosted premier sporting events such as the CONCACAF Gold Cup Final, Pac-12 Championship Game, Las Vegas Bowl, and WWE SummerSlam. The venue also hosted the NFL Pro Bowl in both 2022 and 2023 and has been selected to host Super Bowl LVIII in 2024. Allegiant Stadium is committed to giving back to the community through numerous diversity, inclusion, and community outreach initiatives.