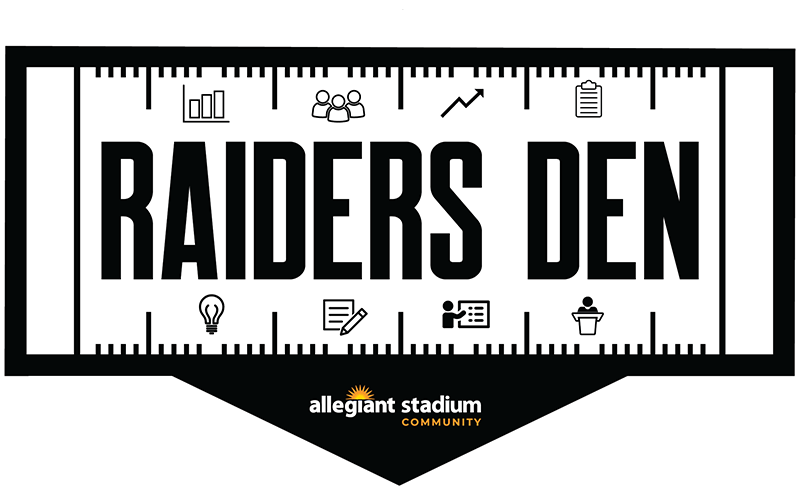 Raiders Den Program Overview
Get ready to embark on an incredible entrepreneurial adventure at Allegiant Stadium!
Introducing Raiders Den – an entrepreneurial summer camp program, exclusively tailored for students currently enrolled at accredited high schools in Southern Nevada. This initiative invites aspiring entrepreneurs to present their product or business ideas that they believe will make a positive impact on our stadium.
Aligned with Allegiant Stadium's core principles of career development and supplier diversity, the Raiders Den program offers a unique platform for students to receive coaching and mentorship from industry experts. Through this immersive experience, participants will tap into a wealth of knowledge and guidance to refine their innovative concepts. Adopting curriculum such as "Finding Your Idea," "Conducting Market Research," "Business Planning and Pitching," and more from StartUpNV, students will use these core principles to develop and refine their ideas. Jeff Saling and Evan Louie, members of the Allegiant Stadium Community Advisory Board, were instrumental in the execution of the inaugural Raiders Den program which took place in July of 2023. Their personal passion for entrepreneurship is deeply embedded within the initiative.
By nurturing creativity and fostering an environment where groundbreaking ideas thrive, Raiders Den ignites the spirit of innovation and empower the next generation of visionary leaders.
Don't miss out on this extraordinary opportunity! Join us at Allegiant Stadium's Raiders Den program, where passion and innovation intersect, and dreams have the power to become reality. Check back for info on the 2024 Raiders Den program.
Home to the Las Vegas Raiders, located adjacent to the world-famous Las Vegas Strip, Allegiant Stadium is an award-winning global events destination. A state-of-the-art, multipurpose venue with a capacity of 65,000, Allegiant Stadium has hosted world-class music artists such as Garth Brooks, The Rolling Stones, Guns N' Roses, Taylor Swift and BTS with more legendary concerts to come. The fully enclosed stadium is also home to the UNLV Rebels football team and has hosted premier sporting events such as the CONCACAF Gold Cup Final, Pac-12 Championship Game, Las Vegas Bowl, and WWE SummerSlam. The venue also hosted the NFL Pro Bowl in both 2022 and 2023 and has been selected to host Super Bowl LVIII in 2024. Allegiant Stadium is committed to giving back to the community through numerous diversity, inclusion, and community outreach initiatives. For more information on Allegiant Stadium, visit www.allegiantstadium.com or follow us at @allegiantstadm on Twitter and @allegiantstadium on Instagram.
July 10 - Orientation, Instructions, and Finding Your Idea
July 11 - Conducting Market Research
July 17 - Finding Investors and Capital / Financial Backing
July 18 - Business Planning and Pitching
July 19 - Pitch Refinement
July 24 - Pitch Preparation and Practice
TBD - Final Presentation
Lunch will be provided each day for participating students.
*Subject to change.
Thank you for your interest in Raiders Den. Applications are now closed.