Morgan Wallen extends One Night At A Time into 2024 with 10 additional stadium shows
Sep

26

/ 2023
Morgan Wallen extends One Night At A Time into 2024 with 10 additional stadium shows
With Pollstar noting his distinct ability to make "fans feel like his songs are their lives," and Southern California News Group observing during his Los Angeles tour stop that he "had them in the palm of his hand… as they sang… cried and cheered," CMA Entertainer, Male Artist and Album of the Year nominee Morgan Wallen's One Night At A Time World Tour has been universally celebrated for the fan connection that has driven its historic run.
Now, with 11 dates remaining on the 2023 leg and fans demanding more, Wallen is extending the tour into 2024 with 10 additional stadium shows, including a Las Vegas stop at Allegiant Stadium on Thursday, Aug. 8, 2024. Jelly Roll, Nate Smith and Ella Langley will join for support.
"Thank y'all for an insanely fun and fulfilling 2023 tour," Wallen shares. "It was impossible for me to hit every stadium that I wanted to in 2023, so we're gonna keep this tour going in 2024. See y'all out there!"
Tickets for One Night At A Time 2024 will be using advance registration to ensure more tickets get into the hands of fans directly by helping to filter out bots from the ticket purchase process. Fans can register now through Sunday, Oct. 1 at 11:59 p.m. PT HERE. Once registration closes, fans will be randomly selected to receive a day/time of the presale along with a code that grants them access to the presale.
The tour will also offer a variety of different VIP packages and experiences for fans to take their concert experience to the next level. Packages vary but may include premium tickets, a guided backstage tour, group photo on the stage, invitation to the Morgan Wallen VIP Lounge, VIP-exclusive gift item & more. For more information, visit vipnation.com.
The tour is named after Wallen's third studio album One Thing At A Time, which arrived in March as the No. 1 album on the all-genre Billboard 200 chart, where it remained for 12 consecutive weeks; the most at the top for a Country album in over 30 years. It currently remains in the top 10 alongside his 6x platinum ACM Album of the Year, Dangerous: The Double Album, Billboard's longest running Top 10 album in history for a solo artist.
Recent chart-topper "Last Night" became his fastest-climbing No. 1 to-date (with just 11 weeks) and the fastest-charting No. 1 since 2015, remaining atop the all-genre Billboard 100 chart for 16 weeks; the longest running No. 1 solo song in Hot 100 history. "Last Night" was the most-streamed song of the summer, becoming the first song by a country artist to land the top spot on Spotify's "Songs of the Summer" list.
Wallen currently has two hits top 10-and-climbing on country radio: "Everything I Love," which interpolated The Allman Brothers' "Midnight Rider," and the self-confident track "Thinkin' Bout Me."
Three dollars ($3) of every ticket sold for U.S. dates benefits the Morgan Wallen Foundation (MWF) which supports programs for youth with a focus on sports and music. To-date, Wallen has supported community revitalization efforts for ballparks in local neighborhoods in some touring cities, including Boston and Chicago, and MWF recently donated $500k to Habitat For Humanity of Greater Nashville's Parkwood community transformation project. MWF has also provided funding for nonprofits such as Mr. Holland's Opus Foundation, Make-A-Wish, The Salvation Army and National Museum of African American Music. For more information, please visit www.morganwallenfoundation.org.
Boot Barn, the nation's leading lifestyle retailer of western and work-related footwear and apparel, will be joining Wallen on the road for his 2024 tour.
About Morgan Wallen
Hailed by Billboard for making "his superstar arrival as a touring artist" in 2022, CMA Entertainer of the Year nominee Morgan Wallen continues to reign as one of Country's top tours, as his massive One Night At A Time World Tour remains in the top five on Pollstar's LIVE75 chart. Spanning 25 stadium-plays across 5 countries and 3 continents, plus arenas, amphitheaters and festivals, Wallen's 57-show 2023 One Night At A Time World Tour delivers the man the New York Times dubbed "one of the biggest stars in pop, period" to fans worldwide. Wallen continues to shatter records, becoming the largest weekend ever for Ohio Stadium (surpassing attendance records previously held by George Strait and Taylor Swift) and the only act to play twice in one tour. $3 from every U.S. ticket sold will benefit the Morgan Wallen Foundation.
With over 24.5 billion on-demand streams and nine chart-toppers at Country radio, the East Tennessean's latest, "Last Night," became his fastest-climbing No. 1 to-date (with just 11 weeks) and the fastest-charting No. 1 since 2015, remaining atop the all-genre Billboard 100 chart for 16 weeks; the longest running No. 1 solo song in Hot 100 history. Wallen's recently released third studio album, One Thing At A Time, reigned atop the all-genre Billboard 200 chart for 12 consecutive weeks, the most at the top for a Country album in over 30 years; and currently remains in the top 10 alongside his 6x platinum sophomore album, Dangerous: The Double Album (Big Loud/Mercury/Republic Records); Billboard's longest running Top 10 album in history for a solo artist (with 137 total weeks spent in the top 10, eclipsing Adele's 21 and Bruce Springsteen's Born In The USA).
About Jelly Roll
Nashville native singer/songwriter Jelly Roll (Jason DeFord) recently debuted Top 3 on the Billboard 200 All Genre Chart and #2 on the Top Country Album charts with his debut Country Album, Whitsitt Chapel (released June 2nd, 2023 ) – earning the biggest Country debut album in Billboard Consumption Chart history. Following his sweep at the 2023 CMT (Country Music Television) Music Awards where he earned 3 awards to become the most awarded artist of the night, the Billboard Country Power List Cover star and "country's 'most authentic' new artist" (The New Yorker) recently received Billboard's 2023 Breakthrough Award. "One of Nashville's fastest rising stars" (The New York Times), Jelly is currently an 8X nominee at the People's Choice Country Awards and the most nominated male at the 2023 CMA Awards, with 5 total nominations. His current hit single "Save Me" — a confessional, vulnerable expression of self-doubt— set the stage for his new season of life and took him to new heights, has more than 155 million views on YouTube and Platinum certification from the RIAA. Jelly debuted the song along with Lainey Wilson at the 2023 ACM Awards on the heels of his 28-week reign at No. 1 on Billboard's Emerging Artists chart. "Save Me" is the follow-up single to his multi-week #1 hits on Country and Rock radio, "Need A Favor" and "Son of A Sinner." Currently headlining his sold-out 44 city 2023 Backroad Baptism Arena Tour, Jelly Roll continues to resonate with fans on a global scale and earn numerous industry milestones- from playing his sold-out hometown show for 18,000 fans at Nashville's Bridgestone Arena to sold-out dates at the Ryman Auditorium and the release of his critically-acclaimed Hulu documentary produced by ABC News, "Save Me."
About Nate Smith
Featuring a mix of gritty backwoods soul, rock 'n' roll swagger and velvet-thunder vocals, Nate Smith's personal journey inspired him to be a beacon of country-music hope, an inspirational mission he puts front-and-center. Since making it to Nashville, the singer's "powerhouse tenor" has become "perhaps country music's fastest-rising beloved voice" (The Tennessean). He's made a huge splash with songs such as his Platinum-certified multi-week No. 1 hit "Whiskey On You," which was lauded as the "breakup song of the summer" by Country Now and "an enormously satisfying country kiss-off anthem" by Stereogum. "Whiskey On You" amassed over 7.5 million total global on-demand streams in its first week, reaching No. 10 on the Country On-Demand Streaming Chart. The smash hit has racked up over 370 million total global on-demand streams to date. Nate released his debut, self-titled album along with the deluxe version on April 28. The hefty 26-song project hit #6 on Billboard's Country album charts and #30 on the Billboard Top 200. His latest single off the album, "World On Fire," is impacting country radio now. The CMT Music Awards and ACM Awards nominee is currently on tour with Thomas Rhett and will hit the road with Cole Swindell this fall.
About Ella Langley
Ella Langley's music kicks like a smooth Alabama whiskey. Her dyed-in-the-wool country storytelling and anthemic hooks go down easy, while moments of attitude-laden rock 'n' roll might just knock you on the floor. Hailing from Hope Hull, Alabama, she tirelessly gigged in bars and at local festivals before relocating to Nashville in 2019. Her songs "If You Have To" (2021), "Damn You" (2022), and "Country Boy's Dream Girl" (2022) have continuously fueled her momentum with tens of millions of streams on each track. Simultaneously, she landed high-profile cuts behind-the-scenes. She co-wrote Elle King's 2022 single "Out Yonder" in addition to four more tracks on Come Get Your Wife. As a formidable performer, she toured with the likes of Jon Pardi, Koe Wetzel, Randy Houser, Cody Johnson, and Jamey Johnson in addition to sharing the stage with Lainey Wilson and Parker McCollum. Meanwhile, she made her debut at the Grand Ole Opry, and Spotify pegged her as a "Hot Country Artist to Watch for 2023." She formally introduced her signature style on her 2023 debut EP, Excuse The Mess [Columbia Records/Sony Music Nashville], which features current rising single "That's Why We Fight" [feat. Koe Wetzel].
About Live Nation Las Vegas
Live Nation Entertainment (NYSE: LYV) is the world's leading live entertainment company comprised of global market leaders: Ticketmaster, Live Nation Concerts, and Live Nation Sponsorship. Live Nation Las Vegas produces residency shows from Garth Brooks and Rod Stewart at The Colosseum at Caesars Palace; Maroon 5, Usher, Lady Gaga and Bruno Mars at Dolby Live at Park MGM; The B-52s, FOREIGNER, Styx, ZZ TOP, Earth, Wind & Fire and Chicago at The Venetian Theatre at The Venetian Resort Las Vegas; Shania Twain, Keith Urban and Miranda Lambert at Bakkt Theater at Planet Hollywood Resort & Casino; and Erika Jayne and Santana at House of Blues. Live Nation Las Vegas also brings other world-famous artists to many of the city's other premier concert venues including Allegiant Stadium, T-Mobile Arena, MGM Grand Garden Arena, Michelob ULTRA Arena, the Pearl at Palms Casino Resort, Downtown Las Vegas Events Center and more. For additional information, visit www.livenationentertainment.com. Find Live Nation Las Vegas on Facebook, Instagram and follow us on Twitter.
About Allegiant Stadium
Home to the Las Vegas Raiders, located adjacent to the world-famous Las Vegas Strip, Allegiant Stadium is an award-winning global events destination. A state-of-the-art, multipurpose venue with a capacity of 65,000, Allegiant Stadium has hosted world-class music artists such as Garth Brooks, The Rolling Stones, Guns N' Roses, Taylor Swift and BTS with more legendary concerts to come. The fully enclosed stadium is also home to the UNLV Rebels football team and has hosted premier sporting events such as the CONCACAF Gold Cup Final, Pac-12 Championship Game, Las Vegas Bowl, and WWE SummerSlam. The venue also hosted the NFL Pro Bowl in both 2022 and 2023 and has been selected to host Super Bowl LVIII in 2024. Allegiant Stadium is committed to giving back to the community through numerous diversity, inclusion, and community outreach initiatives. In addition, Allegiant Stadium is proud to be LEED Gold certified and is dedicated to implementing sustainable practices and programs. For more information on Allegiant Stadium, visit www.allegiantstadium.com or follow us at @allegiantstadm on Twitter and @allegiantstadium on Instagram.
FOR MORE INFORMATION:
For Live Nation Las Vegas
Kelly Frey
For Allegiant Stadium
Tiffany Miller
To apply for media credentials for show coverage: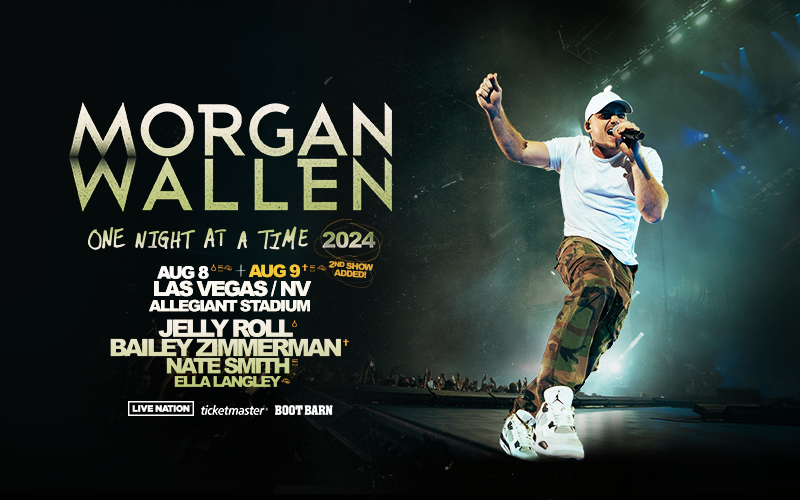 Morgan Wallen makes a Las Vegas stop at Allegiant Stadium on Friday, Aug. 9, in addition to the previously announced show on Thursday, Aug. 8, 2024.