George Strait and Chris Stapleton with special guest Little Big Town bring supersized Strait To Vegas show to Allegiant Stadium on December 7, 2024
Sep

12

/ 2023
George Strait and Chris Stapleton with special guest Little Big Town bring supersized Strait To Vegas show to Allegiant Stadium on December 7, 2024
Setting venue attendance records across seven stadium shows this summer, country music icon George Strait and eight-time GRAMMY winner Chris Stapleton continue the excitement into 2024. Returning alongside the King of Country and Stapleton for the extended run of one-off stadium dates are special guests and GRAMMY Award-winning band Little Big Town. Strait will supersize his longstanding Strait to Vegas show when the tour makes a stop in Las Vegas to mark the 37th installment of the engagement at Allegiant Stadium on Saturday, December 7, 2024.
Tickets go on sale next Friday, Sept. 22 at 10 a.m. local time via GeorgeStrait.com. American Express® Card Members can purchase tickets before the general public beginning Friday, Sept. 15 at 10 a.m. local time through Thursday, Sept. 21 at 10 p.m. local time.
Of the few opportunities to see Strait perform live, Pollstar opines, "Strait remains the most worthy inheritor of Merle Haggard or Willie Nelson's mantle of country icon through the meaningful fluidity with which he moves through country's various sub-strains with the same ease and enjoyment that marked both men's Country Music Hall of Fame careers."
"I've always said we have the best fans in the world, and to see so many of them show up for these shows just makes us want to keep bringing them more," shares Strait. "I've also missed performing in Las Vegas during NFR, so I'm happy to see that show come together in 2024. See you soon!"

About George Strait
George Strait is the unambiguous King of Country Music, having sold more than 105 million albums and counting while earning more than 60 major entertainment industry awards as well as countless nominations and becoming the only act in history to have a Top 10 hit every year for over three decades. With 33 different Platinum or multi-Platinum albums, he's earned the third-most certifications of any artist in any genre, following only The Beatles and Elvis Presley, and with a total of 60, Strait has more No. 1 songs than any other artist in history (including Elvis).
The Texas troubadour released 2019's best-selling Country album, Honky Tonk Time Machine, on MCA Nashville, produced by Strait and Chuck Ainlay, the album quickly became Strait's record-extending 27th No. 1 Billboard Country album. Comprised of 12 original titles plus Strait's version of the Johnny Paycheck classic "Old Violin," Honky Tonk Time Machine marks an incredible 30th career studio album from the Country Music Hall of Fame member, who earned his 100th entry on the Billboard Country Airplay chart with his single "The Weight of the Badge" from the project.
Since his record-breaking Cowboy Rides Away Tour in 2014, Strait has performed for limited engagements, most notably at Las Vegas's T-Mobile Arena for his long running "Strait to Vegas" series. In 2022, he also made his 31st appearance at the iconic Houston Rodeo on the event's final night and headlined two nights at Fort Worth's Dickies Arena. 2023 has seen Strait set concert attendance records at multiple venues as he has teamed up with Chris Stapleton for a series of one-off stadium shows in just six markets, with Little Big Town also appearing on each date.

About Chris Stapleton
Kentucky-born Chris Stapleton is an eight-time GRAMMY, 14-time CMA and 10-time ACM Award winner and one of the country's most respected and beloved musicians who will release his highly anticipated new album, Higher, on November 10 (Mercury Nashville).

Produced by Dave Cobb, Morgane Stapleton and Chris Stapleton and recorded at Nashville's historic RCA Studio A, the record consists of 14 tracks that showcase Stapleton's supernatural voice and musical versatility with songs that defy easy categorization. Already receiving overwhelming notice, the album's lead single, "White Horse," recently achieved the biggest add day of the last 12 months at country radio and marks the highest chart debut of Stapleton's career. Released to critical acclaim, Billboard praises, "'White Horse' finds Stapleton pairing an outlaw swagger with some heaven-scraping vocals, going for the gusto throughout the chorus to try and match the guitar snarl."

The new music adds to another landmark year for Stapleton, who is nominated for three awards at this year's 57th Annual CMA Awards: Entertainer of the Year, Male Vocalist of the Year and Musical Event of the Year. He was also named Entertainer of the Year at the 58th ACM Awards—resulting in a prestigious ACM Triple Crown Award—and Male Vocalist of the Year at the 2022 CMA Awards, his sixth time earning the award, setting the record for most wins ever in the category. Additionally, in February, he performed the National Anthem at Super Bowl LVII and has collaborated in recent years with Adele, Taylor Swift, Bruno Mars, Ed Sheeran, Justin Timberlake, P!nk, Sheryl Crow, Santana and many more.

About Little Big Town
GRAMMY, ACM, CMA, AMA and Emmy Award-winning group, Little Big Town – consisting of members Karen Fairchild, Phillip Sweet, Kimberly Schlapman, and Jimi Westbrook – first entered the music scene over 20 years ago with hit songs "Boondocks," "Bring It On Home," "Good As Gone" and the GRAMMY-nominated "Little White Church." The band's breakthrough albums Tornado and Pain Killer produced multiple No. 1 singles, including "Pontoon," "Tornado," and "Day Drinking," as well as the history-making, best-selling country single of the year (2015) "Girl Crush." 2017's The Breaker debuted at No. 1 on the Billboard Country Charts to critical acclaim. The album features their GRAMMY-winning, multi-week No. 1 single, "Better Man," as well as the 2019 GRAMMY-nominated, "When Someone Stops Loving You." The band's self-produced ninth studio album, Nightfall, was released January 2020 and hit the top of the Billboard Country Charts. The record included critically acclaimed and GRAMMY-nominated "The Daughters," "Over Drinking" and "Wine, Beer, Whiskey" – the latter of which has reached almost 400 million global streams. In September 2022 they released their tenth studio album, Mr. Sun, which debuted as the Top Country Album released by a Group in 2022. Little Big Town has earned more than 45 award show nominations and has taken home nearly 20 awards, including multiple GRAMMY, AMA, People's Choice, CMA and ACM Awards, in addition to an Emmy award.
About Allegiant Stadium
Home to the Las Vegas Raiders, located adjacent to the world-famous Las Vegas Strip, Allegiant Stadium is an award-winning global events destination. A state-of-the-art, multipurpose venue with a capacity of 65,000, Allegiant Stadium has hosted world-class music artists such as Garth Brooks, The Rolling Stones, Guns N' Roses, Taylor Swift and BTS with more legendary concerts to come. The fully enclosed stadium is also home to the UNLV Rebels football team and has hosted premier sporting events such as the CONCACAF Gold Cup Final, Pac-12 Championship Game, Las Vegas Bowl, and WWE SummerSlam. The venue also hosted the NFL Pro Bowl in both 2022 and 2023 and has been selected to host Super Bowl LVIII in 2024. Allegiant Stadium is committed to giving back to the community through numerous diversity, inclusion, and community outreach initiatives. In addition, Allegiant Stadium is proud to be LEED Gold certified and is dedicated to implementing sustainable practices and programs. For more information on Allegiant Stadium, visit www.allegiantstadium.com or follow us at @allegiantstadm on Twitter and @allegiantstadium on Instagram.

# # #

Media Contacts for George Strait:
Ebie McFarland
Essential Broadcast Media
ebie@ebmediapr.com

Leigh Malleus
MCA Nashville
leigh.malleus@umusic.com

Media Contact for Chris Stapleton:
Asha Goodman
Sacks & Co.
asha.goodman@sacksco.com

Media Contact for Little Big Town:
Bobby Simmons
Sandbox Entertainment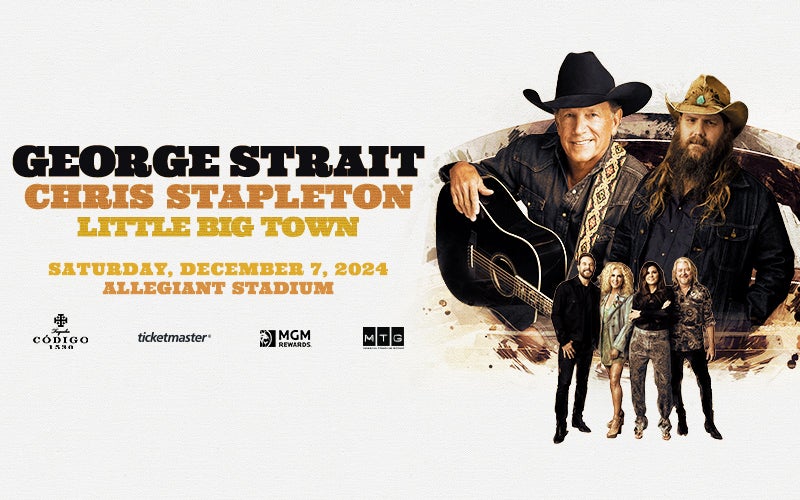 Strait will supersize his longstanding Strait to Vegas show when the tour makes a stop in Las Vegas to mark the 37th installment of the engagement at Allegiant Stadium on Saturday, December 7, 2024.