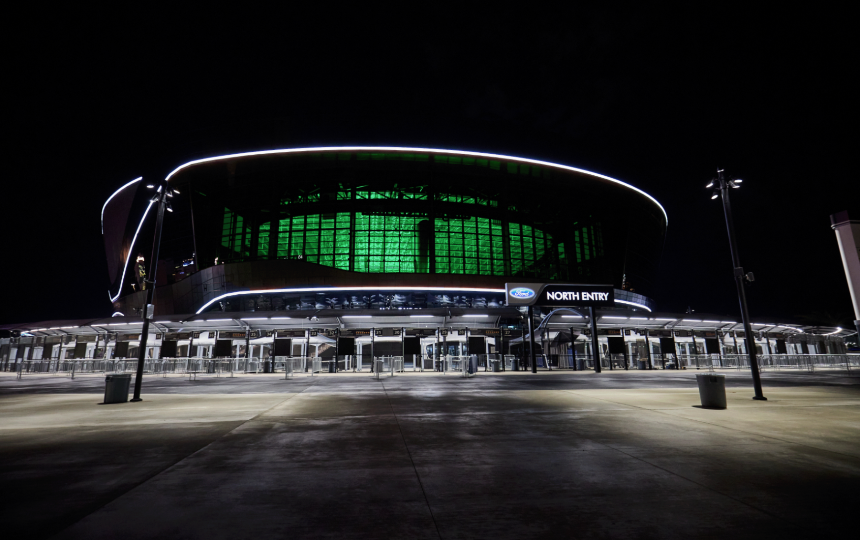 Allegiant Stadium Participates in Green Sports Day 2022
Oct

7

/ 2022
Allegiant Stadium Participates in Green Sports Day 2022
Allegiant Stadium commits to sustainable action via energy efficiency, waste diversion, water efficiency, green purchasing, eco-education for guests and staff, and engaging on a sustainable level with local non-profits.
On October 6, 2022 Allegiant Stadium observed Green Sports Day and lit up green in support of sustainable action across the globe.
About Green Sports Day
The global green sports community is coming together to leverage the power of sports to increase awareness and action on the most pressing environmental and social challenges our world faces. Over 100 Green Sports Alliance members are lighting green on October 6th in observation of Green Sports Day to green light sustainable action across the globe. Join the sports community as we Play to Zero across the globe, taking strides towards net-zero energy, water and waste with the Green Sports Alliance sustainability performance toolkit. All lighting activations will be offset by SouthPole, our 2022 Green Sports Day Carbon Offset Partner.
"America is leading the fight against climate change, and our favorite sports teams, athletes, and their fans have stepped up to the plate – taking significant steps to reduce their carbon footprints and educate people about sustainable solutions. On Green Sports Day, we celebrate these efforts and recommit to building a cleaner, safer and healthier planet for all." – President Barack Obama, remarks at the inaugural Green Sports Day (2016)