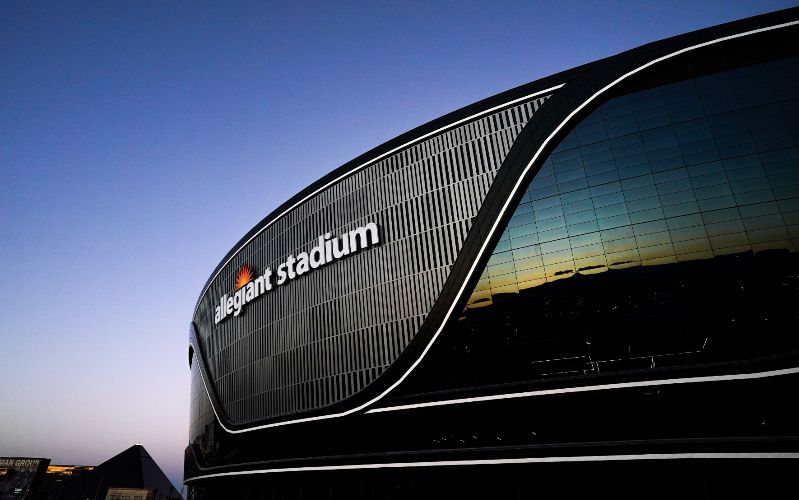 Allegiant Stadium, Operated by ASM Global, Home of the Las Vegas Raiders Redefines Corporate and Private Events in Las Vegas
Aug

26

/ 2020
Allegiant Stadium, Operated by ASM Global, Home of the Las Vegas Raiders Redefines Corporate and Private Events in Las Vegas
LAS VEGAS, NV – Allegiant Stadium, operated by ASM Global, the world's leading venue management and services company, and home of the Las Vegas Raiders has opened their doors to the private event industry. The beautiful new venue adjacent to the world-famous Strip has one of the most prominent views of the Las Vegas skyline, an enticing feature that event planners are after for their next conference.
Allegiant Stadium has over 10 different event spaces capable of hosting an intimate experience as exclusive as 25 people, to a 65,000-person venue buy-out. Each club offers a unique, energizing atmosphere with state-of-the-art audio/visual technology and add-ons such as stadium tours, custom catering menus, and Raiderette appearances that'll deliver an impactful event that guests will not forget.
The Coors Light Landing is the venue's most highly anticipated location, accommodating up to 2,500 people. The Al Davis Memorial Torch is centralized in the space next to the 80-foot high lanai doors that overlooks the Las Vegas skyline on one side, and the Raiders field on the other – perfect for an evening banquet. The Credit One Club offers incredible sideline views of the field, literally one step away, and ideal for a private reception. And for the first time in Las Vegas, a company holiday party, welcome reception, awards ceremony, and so much more can be hosted on an NFL football field.
"We are so excited to debut Allegiant Stadium to the private event industry. The unique variety of spaces within our venue allows us to host a wide range of events which plays a crucial role in our ability to tailor the event experience to individual client needs. We have the incredible opportunity of introducing a venue to Las Vegas that the city has never had before." says Samantha Johnson, Director of Sales for Allegiant Stadium.
Event planners interested in availability and information on Allegiant Stadium's club spaces can submit an inquiry here, or contact [email protected].
For Las Vegas Raiders inquiries, please contact Will Kiss at [email protected]
For Allegiant Stadium inquiries, please contact Lara Gladstone at [email protected]
About Allegiant Stadium
Located adjacent to the world-famous Las Vegas Strip, Allegiant Stadium will be a global events destination, highlighted by the arrival of the NFL's iconic Raiders. Allegiant Stadium will be ideally located for both visitors and locals, fully enclosed and climate controlled with a capacity of 65,000. The technologically advanced stadium will host world-class entertainment including concerts and sporting events such as the Pac-12 Championship Game and Las Vegas Bowl, as well as become the future home of UNLV Football. The stadium project is expected to generate an economic benefit of $620 million annually, while creating 6,000 permanent jobs in Southern Nevada For more information, visit www.allegiantstadium.com or follow them on Facebook, Twitter and Instagram.
About ASM Global
ASM Global is the world's leading venue management and services company. The company was formed by the combination of AEG Facilities and SMG, global leaders in venue and event strategy and management. The company's elite venue network spans five continents, with a portfolio of more than 325 of the world's most prestigious arenas, stadiums, convention and exhibition centers, and performing arts venues. From Aberdeen to Anchorage, and Sydney to Stockholm, its venues connect people through the unique power of live experiences. ASM Global's diverse portfolio of clients benefit from the company's depth of resources and unparalleled experience, expertise and creative problem-solving. Each day, the company's 61,000 passionate employees around the world deliver locally tailored solutions and cutting-edge technologies to deliver maximum results for venue owners and amazing experiences for guests. By consistently looking for new ways to envision, innovate and empower the spaces and places that bring people together, ASM Global elevates the human spirit.