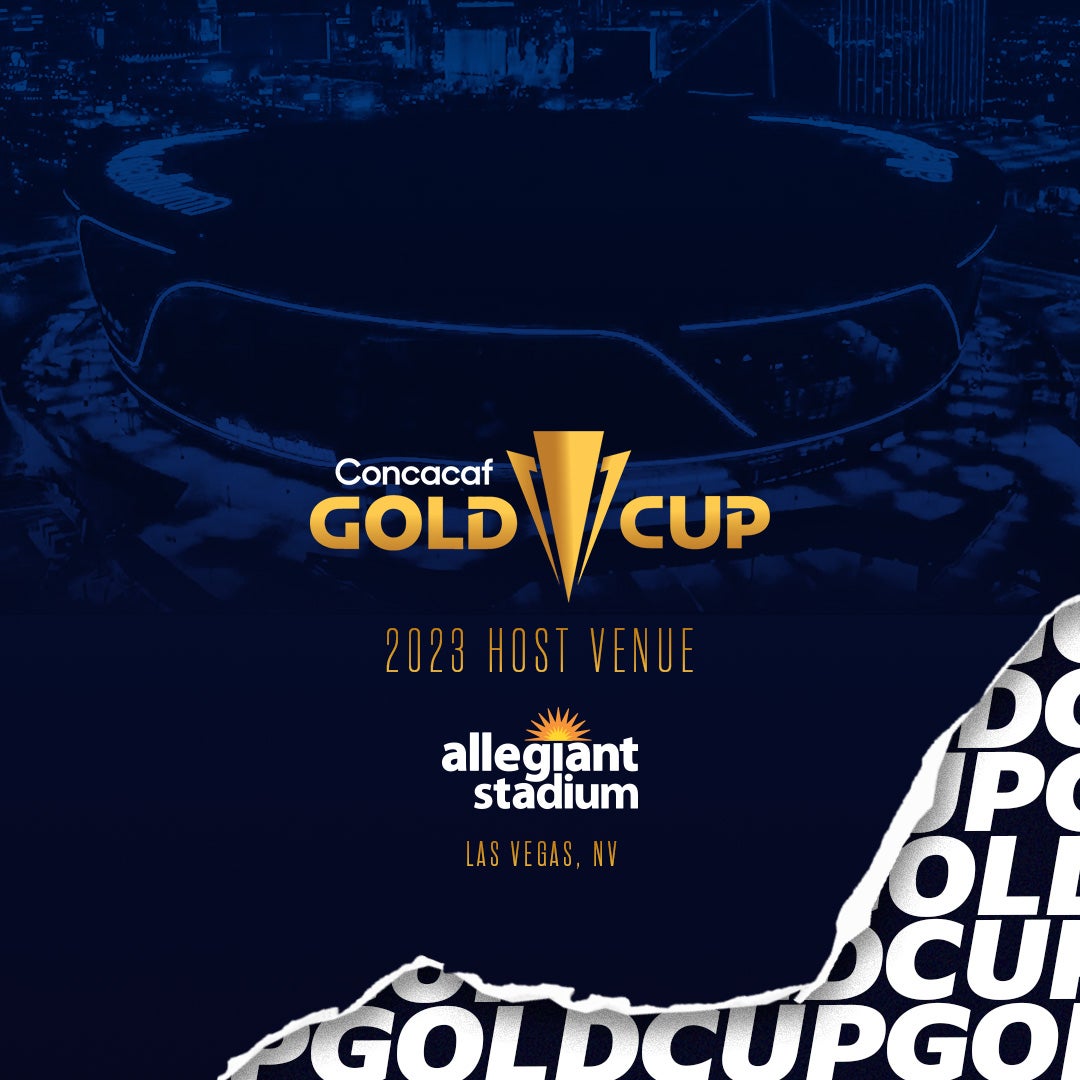 Allegiant Stadium named as a host venue for the 2023 Concacaf Gold Cup Series
Apr

10

/ 2023
Allegiant Stadium named as a host venue for the 2023 Concacaf Gold Cup Series
Concacaf has today announced that Allegiant Stadium in Las Vegas, Nevada has been named a host venue for the 2023 Concacaf Gold Cup. Date and match assignment details are forthcoming following the Gold Cup Draw on Friday, April 14, 2023. The 17th edition of Concacaf's flagship competition for men's national teams will be played between June 16 – July 16 and will crown the best national team in the region.
The 2023 Gold Cup is a key part of the region's vibrant summer of football, which will also include the Concacaf Nations League Finals in Las Vegas, NV, between June 15-18.
Regarding this exciting 2023 Gold Cup announcement, Concacaf President and FIFA Vice President, Victor Montagliani, said: "The Concacaf Gold Cup is our flagship competition and showcases the very best of men's national team football in the region. With each passing edition, this competition has reached new heights on and off the pitch and I am certain the 2023 tournament will deliver outstanding football and capture the imagination of fans across our confederation and beyond."

"The host cities and venues we have selected all have strong track records of hosting elite football, and world class events. I want to thank each and every one of them for their commitment to Concacaf, to our Gold Cup, and to our sport. This is a tremendous time for football in the region with Nations Leagues, men's and women's Gold Cups, and other exciting national team and club competitions taking place over the next three years as we head towards the FIFA World Cup 2026."

"I look forward with great anticipation to watching the Gold Cup Prelims in June and enjoying compelling football involving all the Gold Cup teams right through to the Final and crowning a champion in Los Angeles on July 16."

Concacaf will announce a complete match schedule, including specific match venue assignments, ticketing information, and other details in the days following the official draw.
2023 Gold Cup Draw

To kick off the 2023 Gold Cup, Concacaf will conduct the competition's official draw on Friday, April 14, 2023.

The live in-person event will begin at 12:00 pm PT/local time (3:00 pm ET) and will include the participation of Concacaf President and FIFA Vice President, Victor Montagliani, the head coaches of the national teams participating in the 2023 Gold Cup and important guests.

The draw will be available for fans across the region to view on One Soccer (CAN), FS2 (USA), TUDN (USA and MEX), ESPN (Central America and Caribbean), and other regional broadcasters. For other territories, the event will be available on Concacaf GO, and Concacaf's Facebook page and YouTube channel (all subject to territory restrictions).

For more details regarding the draw, including the procedures and seeded nations, click here,

Click here for media assets including tournament logos, stadium imagery, and more.

The 2023 Concacaf Gold Cup is sponsored by Modelo, Qatar Airways, Toyota, and Valvoline.
MEDIA CONTACT:
Tiffany Miller – Allegiant Stadium
ABOUT GOLD CUP
The Concacaf Gold Cup is the Confederation's premier competition for men's national teams, crowning a champion every two years. Initially involving eight teams, the Gold Cup expanded into a competition that includes a 12-team Preliminary Round and 16-team Group Stage, all which qualify via the Concacaf Nations League. The tournament has been contested on 16 previous occasions. Mexico owns a tournament-record eight titles, followed by the United States with seven and Canada with one. For more information about the Concacaf Gold Cup, click here.

ABOUT CONCACAF
The Confederation of North, Central America, and Caribbean Association Football (Concacaf) is one of FIFA's six continental confederations, servicing 41 Member Associations, from Canada in the north to Guyana, Suriname, and French Guiana in the south. Concacaf means football first. Our members are united by a shared vision: Love For Our Game, as well as a unique mission, to develop, promote and manage football throughout the region with integrity, transparency, and passion in order to inspire participation in the game.
ABOUT ALLEGIANT STADIUM
Located adjacent to the world-famous Las Vegas Strip and home to the Las Vegas Raiders, Allegiant Stadium is an award-winning global events destination. A state-of-the-art, multipurpose venue with a capacity of 65,000, Allegiant Stadium has hosted world-class music artists such as Garth Brooks, The Rolling Stones, Guns N' Roses, Taylor Swift, and BTS with more legendary concerts to come. The fully enclosed stadium is also home to the UNLV Rebels football team and has hosted premier sporting events such as the Concacaf Gold Cup Final, Pac-12 Championship Game, Las Vegas Bowl, and WWE SummerSlam. The venue also hosted the NFL Pro Bowl in 2022 and has been selected to host Super Bowl LVIII in 2024. Allegiant Stadium is committed to giving back to the community though numerous diversity, inclusion, and community outreach initiatives. For more information on Allegiant Stadium, visit www.allegiantstadium.com or follow us at @allegiantstadm on Twitter and @allegiantstadium on Instagram.