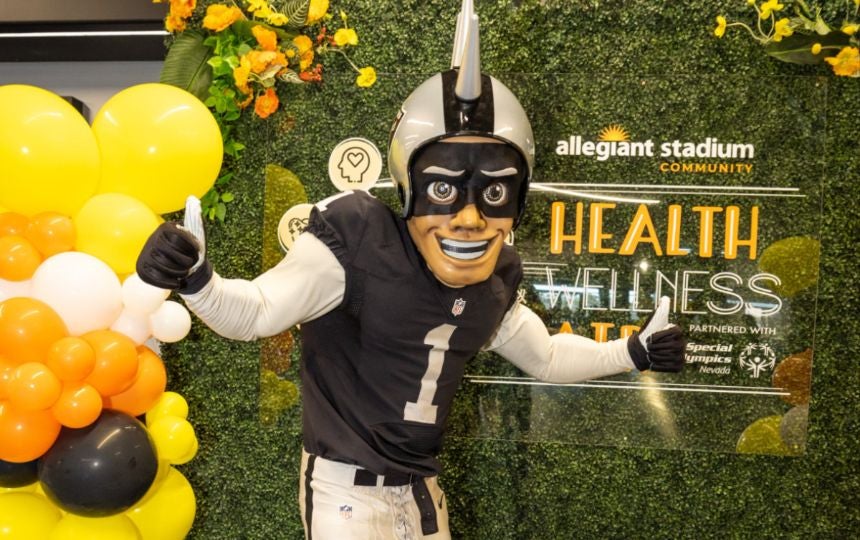 Allegiant Stadium Health and Wellness Fair
Oct

11

/ 2022
Allegiant Stadium Health and Wellness Fair
On Thursday, May 19th, 2022, in partnership with Special Olympics Nevada, Allegiant Stadium hosted its 1st Annual Health and Wellness Fair benefitting local CCSD youth.
As a part of Allegiant Stadium Community Initiatives, with the help of its Community Advisory Board, The Health & Wellness Fair will be one of Allegiant Stadium's signature community events aimed at providing families free access to health care services.
This year's event welcomed middle and high school students and their families to Allegiant Stadium for an opportunity to receive free health screening to include Sports Physicals, Hearing, Vision, and Dental exams, as well as information on community and mental health resources.
The Fair welcomed over 100 youth and their families who in addition to receiving health services were able to participate in activities such as: face painting, photo ops, and guided tours of the stadium.
Community partners included Special Olympics Nevada, Blue Cross Blue Shield, Truman Orthodontist, Southern Nevada Health District, LVMPD and volunteers from UNLV and Touro university.
Allegiant Stadium's Community Advisory Board consists of local community leaders and changemakers all of whom have dedicated their time and expertise to improving the Las Vegas community through public policy reform, entrepreneurship, education, diversity and inclusion, and much more. The Community Advisory Board helps to guide the Allegiant Stadium Community Affairs Team and assist in the development of programs and signature events that will positively impact disadvantaged youth in the Las Vegas Valley and surrounding areas.
"We are honored to partner with Allegiant Stadium's Community Advisory Board in this on-going effort. Access to quality health services and education are key to maintaining and preventing health risks. We are grateful for Allegiant Stadium's Community Advisory Board's commitment to partner with organizations like Special Olympics Nevada who is actively working to create inclusive access for people with intellectual disabilities" said Terrence Thornton, Executive Director of Special Olympics Nevada.
Allegiant Stadium is committed to being a visible and active member of the Las Vegas Community. For more information on Allegiant Stadium's community events or ways to partner with Allegiant Stadium Community Affairs team visit www.allegiantstadium.com/community or email ascommunity@allegiantstadium.com
Learn More: Health and Wellness Fair Video