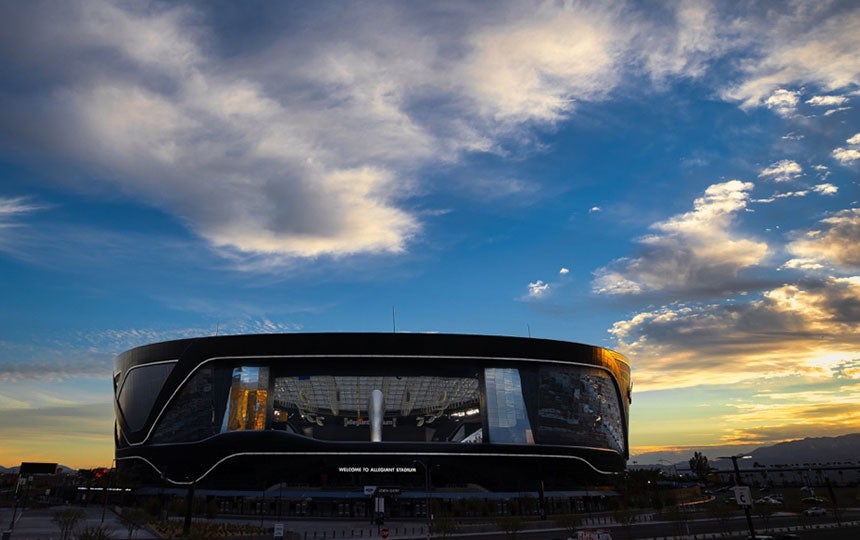 Allegiant Stadium Celebrates Earth Day with Ongoing Sustainability Programs and Eco-Educational Trip to Local Farm
Apr

22

/ 2022
Allegiant Stadium Celebrates Earth Day with Ongoing Sustainability Programs and Eco-Educational Trip to Local Farm
LAS VEGAS (Friday, April 22, 2022) – In celebration of Earth Day, Allegiant Stadium recognizes its dedication to sustainable policies and programs that minimize its environmental footprint – with focus on waste diversion, green purchasing, water reduction, energy optimization, staff education, and connecting to the local community's eco-efforts.
Since opening its doors on July 31st, 2020, Allegiant Stadium has consistently led comprehensive initiatives that positioned each Las Vegas Raiders football game, concert, sporting event, and private event to prioritize and emphasize sustainability success. The ultimate goal in developing this sustainability program is to be good stewards of the community, conserve resources, champion efforts that result in great impact, and empower staff to take ownership of eco-efforts; all the while providing guests with an impactful experience.
Key accomplishments of the Allegiant Stadium Sustainability Programs include:
On average, 11,000 pounds of food scraps are collected per large stadium event, diverted away from landfill and turned into livestock feed
2,347 pounds of e-waste have been donated to a local non-profit that directly benefits programs and services for the blind or visually impaired
Over 7,488 watts of energy have been created from the Cigarette Waste Collection Program
On average, 6,500 pounds of cardboard is baled and sent for recycling each month
26,000 pounds of carpet from a previous event were diverted from landfill and repurposed by a local recycling vendor
2 tons of concessionaire food was delivered to a local food bank in the month of February
Supported by Alder Tree Consulting, Allegiant Stadium has enlisted a best-in-class consulting firm to enhance their efforts. "The Allegiant Stadium Sustainability Program is one we are extremely proud of; by creating eco-efficient practices for staff and meaningful conservation outcomes for the stadium's guests and clients, Allegiant Stadium reduces resources and diverts waste away from the landfill," said Krystle Johnson of Alder Tree Consulting. "Education and collaboration are key in implementing the sustainability program's initiatives. We are excited to continue working with all stadium entities, productions, clients, and guests in establishing a robust venue sustainability program."
Team members at Allegiant Stadium are encouraged to take part in sustainability efforts through activities such as green purchasing, waste diversion, and energy consumption as well as attend eco-educational outings. The stadium team has visited the Las Vegas Wash, planting 300 native trees to aid in erosion prevention and habitat restoration, and most recently volunteered at a local Las Vegas farm to learn about animal advocacy and the benefits of local farming.