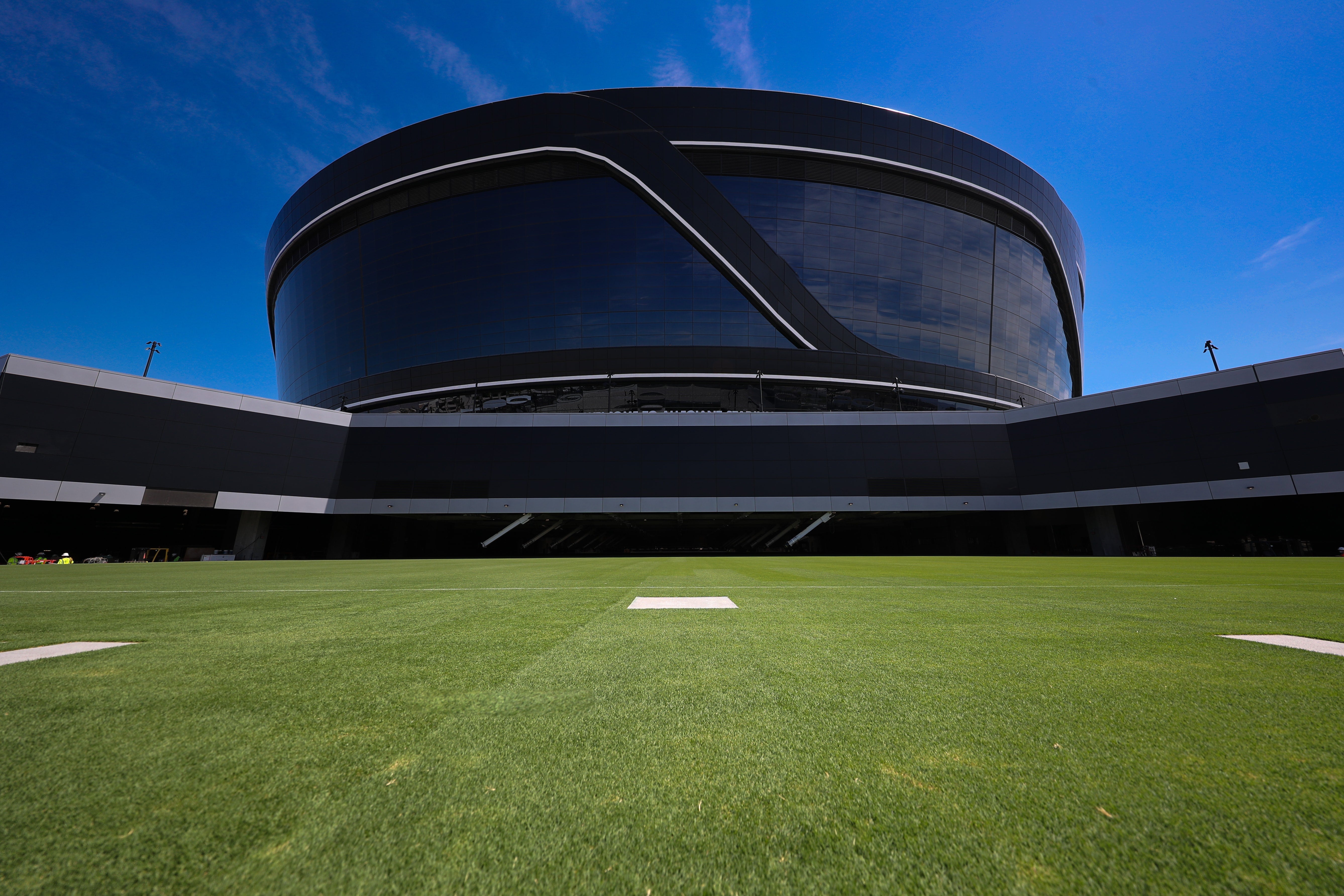 Allegiant Stadium Announces On-Site Composting Program
Apr

21

/ 2023
Allegiant Stadium Announces On-Site Composting Program
In honor of this year's Earth Day, Allegiant Stadium takes its dedication to sustainable policies and programs like waste diversion, green purchasing, water reduction, energy optimization, and staff and guest eco-engagement one-step further with the addition of an on-site biomass machine and composting program.
This on-site biomass machine will allow the stadium to process up to 650-pounds of food scraps, paper products, and field grass clippings per 24 hours and compost the material into viable soil, stream-lining the recycling and composting efforts already in practice at Allegiant Stadium. This soil will be utilized on-property, with excess soil to be donated to local community partners.
"Persistent innovation is an integral part of the sustainability program here at Allegiant Stadium", said Samantha Johnson, SVP of Sales and head of Allegiant Stadium Sustainability. "We are consistently looking for new ways to divert waste, and this addition of an on-site compost program is taking our efforts even further".
"Working with Allegiant Stadium Sustainability means always looking for new ways to optimize and enhance their ongoing efforts", stated Krystle Johnson of Alder Tree Consulting. "This conversion to an on-site composting program allows them to be even more efficient and hands-on with their sustainability story".
Additional key accomplishments of the Allegiant Stadium Sustainability programs over the last year include:
On average, 12,000 pounds of food scraps including kitchen food prep cuttings and end-of-event food scraps have been collected per large stadium event, diverted away from landfill and turned into livestock feed
On average, 15,000 pounds of cardboard have been baled and sent for recycling each month
Over 62,294 watts of energy have been created from the Cigarette Waste to Energy Collection Program
Over 84,096 pounds of concessionaire food have been delivered to local food banks
Over 37,240 pounds of stadium field grass clippings have been sent to an off-site composter
Over 885,720 pounds of sod have been diverted to local livestock farms and re-used as animal bedding
Over 36,080 pounds of rubber turf pellets have been recycled via local recycling partner
Team members at Allegiant Stadium are encouraged to take part in sustainability efforts through activities such as green purchasing, waste diversion, and energy consumption as well as attend eco-educational outings. The stadium team recently visited the Las Vegas Springs Preserve to learn about another sustainable-focused operation and were able to get hands-on learning experience by renewing mulch throughout tree beds on the property, learning about various desert plants, and spending time in the preserve's teaching garden and butterfly habitat.
Allegiant Stadium PR inquiries:
Tiffany Miller, tmiller@allegiantstadium.com
ABOUT ALDER TREE CONSULTING
Alder Tree Consulting is a Sustainability and Community Affairs Consulting firm who provides services in building, enhancing, and maintaining dynamic Sustainability Programs. Alder Tree believes heavily in the importance of educating clients on sustainable practices and connecting to communities.
ABOUT ALLEGIANT STADIUM
Located adjacent to the world-famous Las Vegas Strip and home to the Las Vegas Raiders, Allegiant Stadium is an award-winning global events destination. A state-of-the-art, multipurpose venue with a capacity of 65,000, Allegiant Stadium has hosted world-class music artists such as Garth Brooks, The Rolling Stones, Guns N' Roses, Taylor Swift, and BTS with more legendary concerts to come. The fully enclosed stadium is also home to the UNLV Rebels football team and has hosted premier sporting events such as the Concacaf Gold Cup Final, Pac-12 Championship Game, Las Vegas Bowl, and WWE SummerSlam. The venue also hosted the NFL Pro Bowl in 2022 and has been selected to host Super Bowl LVIII in 2024. Allegiant Stadium is committed to giving back to the community though numerous diversity, inclusion, and community outreach initiatives. For more information on Allegiant Stadium, visit www.allegiantstadium.com or follow us at @allegiantstadm on Twitter and @allegiantstadium on Instagram.